As you may know, I met legendary investor Bill Ackman (Short Herbalife) in the first half of this year. He was taller and bulkier than I expected. Ackman speaks in a soft voice (to strangers of course) and has a firm handshake. My tiny hands were nothing compared to the strong hands of Mr. Bill Ackman.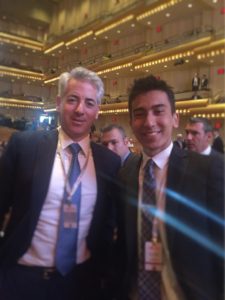 In case you don't know, Ackman is one of the world's most famous hedge fund managers and activist investors. Pershing Square Capital Management net return was 40.4% in 2014, the highest among its peers. Since inception in 2004, Pershing Square posted net gains of 567.1% versus 135.3% return for the S&P 500. The hedge fund's 1.5% base fee and 16% performance fee is low relative to industry standards.
Last Tuesday (September 13th), another legendary investor Carl Icahn (Long Herbalife) was right next to me at the Delivering Alpha and I didn't even see him.
Yes, I know!!! Oh my god.
In case you don't know, Icahn is one of the world's most famous hedge fund managers and activist investors. As the chairman of Icahn Enterprises LP, Icahn says "Some people get rich studying artificial intelligence. Me, I make money studying natural stupidity" according to his Twitter bio. I love that quote.
How did this happen? During a coffee break before Stephen Schwarzman – Chairman, CEO, and Co-Founder of Blackstone (another legend) – was due to speak in front of investors, press, students (me unfortunately), etc…I lost my focus.
How did I lose my focus? I wanted to be on the cover of Institutional Investor magazine. Well, not the real magazine. There was a photo booth at the conference.
Why was the fake magazine cover so important? Besides being in love with finance, I wanted to get a picture of my handsomeness. Someone who works for NBC even told me I was handsome when I was leaving the event. My response was "I always look handsome" which is a fact.
…So here I am, stepping on the booth while Icahn is just passin' by!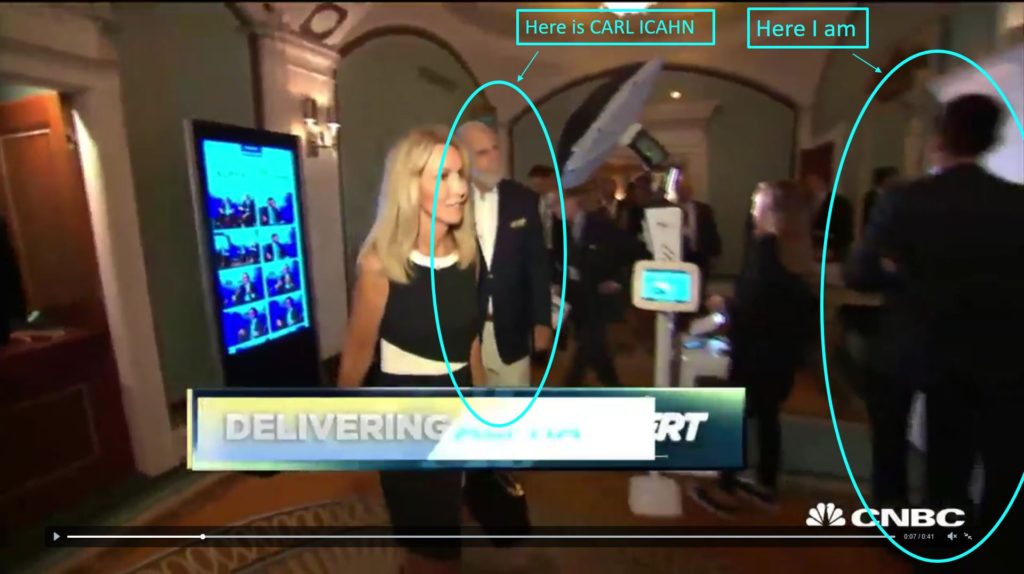 I was 5-10ft away from the man I admire and I didn't even see him. I didn't even notice the cameraman with a strong lighting. I noticed nothing. I was thinking about how I made it to the cover of Institutional Investors magazine and Forbes is next.
Here is the video of me on CNBC for the first time and Carl Icahn on the same screen.
Happening now: @Carl_C_Icahn arrives at #DeliveringAlpha in NYC; watch Icahn on @CNBC shortly. pic.twitter.com/H3M29E0vxc

— CNBC Now (@CNBCnow) September 13, 2016
I messed up…for this handsome picture of myself.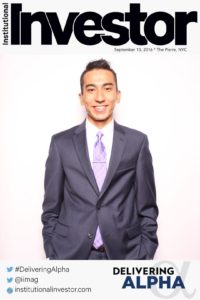 Although I didn't see Icahn there, I did see him on stage after the interview of Schwarzman with CNBC's Becky Quick.
Schwarzman Interview at the 6th Annual Delivering Alpha:
Great summary of the interview can be found on the Institutional Investor's website.
BECKY QUICK: I think Blackstone has gone from something around $35 to around $26 over the course of the last year. Why is that? What is that a reflection of?

STEPHEN SCHWARZMAN: That's a reflection that investors are wrong.
I love the sarcasm.
STEPHEN SCHWARZMAN: I don't want to be selling an asset that's gone down because the world has gone down. If it's a wonderful company, if I want to sell it, I'd sell it after everything goes well.
What Schwarzman is trying to say is…
"Investing is the only business I know that when things go on sale, people run out of the store" – Mark Yusko
Here comes Carl Icahn on stage:
Everybody excited. Their phones are out. Chairs are being moved to get a better angle of the legend.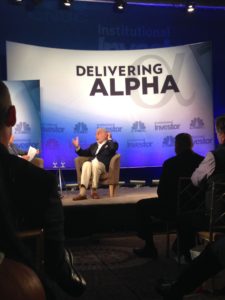 And no, Bill Ackman did not show up again.
Transcript of the CNBC interview with Icahn can be found on CNBC's website.
CARL ICAHN: I think Ackman's a smart guy.

CARL ICAHN: and, again, I think Ackman's smart

CARL ICAHN: I really think he's [BILL ACKMAN] a smart guy.

CARL ICAHN: I sort of like him [BILL ACKMAN]. I think he's smart.

CARL ICAHN: I really believe Ackman being smart
I also think/believe Ackman is smart and so is Icahn.
I didn't know Icahn was right next to me until I came home. At around 8:40 P.M, I come home. Until 10:24 P.M, I eat my dinner and some snacks, while checking emails and twitter, and reading news.
At 10:24 P.M, I'm scrolling through @CNBCnow twitter and that's when I saw the video. My reaction was too graphic to describe it here.
The rest is history.
Delivering Alpha 2016 is one of the moments I will forever remember. I really enjoyed the conference and meeting people from the media and hedge fund world.
Although I came late to the conference, at around 1:40 P.M, and missed Ray Dalio, the experience was still amazing. Not just amazing, but also incredible, stunning, astonishing, etc.
Delivering alpha as a concept is all about beating the market. Over the past six years, the investment conference has brought many great investors who got a track record of actually delivering alpha to speak in front of audience.
CNBC and Institutional Investor hosted the annual Delivering Alpha conference at NYC's Piere Hotel.
I will forever remember this day, September 13, 2016.
What's Next?
So far I met Ben Bernanke, Marcus Lemonis, Chamath Palihapitiyaa (CEO of Social Capital), Bill Ackman, and Carl Icahn. Who's the next high-profile person I will meet? Janet Yellen? Mario Draghi? Warren Buffett? Stay tuned.
So far I made it to Bloomberg (for real) and Institutional Investors (literally), what's next? Forbes? WSJ? Time Person of the Year? Stay tuned.
It's only matter of time before I'm on stage at the Delivering Alpha and media asks me questions. Stay tuned.