Last Friday (May 5, 2015), Bureau of Labor Statistics released non-farm payrolls (jobs report) for May and it was way beyond expectations. 280,000 jobs were added in May (largest since December) vs. expectations around 225,000. It's a strong sign that the US economy is recovering from the contraction that occurred in first quarter of 2015 (January-March).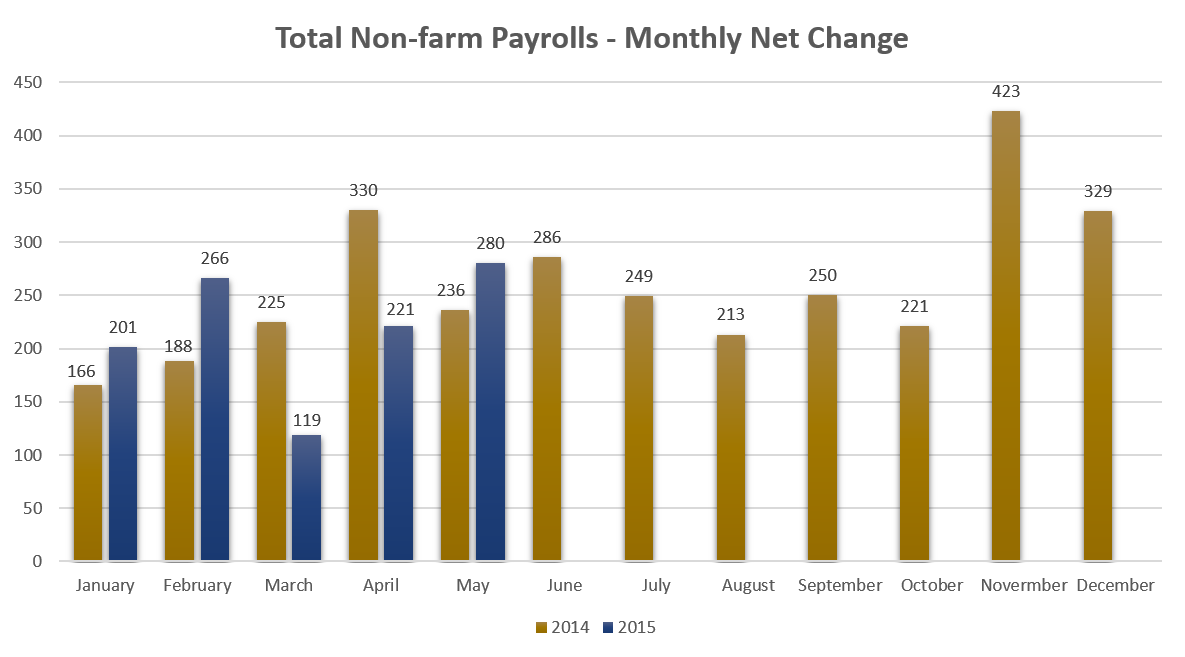 The unemployment rate ticked higher by 0.1% to 5.5% from 5.4%, as more people are entering labor force (because their confidence in the jobs market are increasing). In May, 397,000 people entered labor force, mostly recent college graduates.
Average hourly earnings increased 0.3% on month-to-month basis from 0.1% in April. Over the year, it increased 2.3%, largest rise since August 2013. It's indication that future consumer spending will increase. When consumers spend more money, companies generate more money and eventually hire more people. Basically, it's a short-term demand in the economy.
March and April numbers were revised. March was revised from 85,000 to 119,000 (+34,000) and April revised from 223,000 to 221,000 (-2,000).
There were big increases in employment in professional and business services (+63,000), leisure and hospitality (+57,000), and healthcare (+47,000). Meanwhile, employment in mining fell for the fifth month in a row (-17,000) as low energy prices continues to hurt energy companies.
This is the most important US economic report because it shows how first quarter, which contracted 0.7%, are due to transitory factors and guides the Federal Reserve on the path of raising the interest rates. As a result of strong jobs report, June rate-hike door is not closed. Federal Open Market Committee (FOMC) will be meeting on Tuesday, June 16, and Wednesday, June 17. At 2 PM EST, economic projections, statement and federal funds rate will be released followed by 2:30 PM EST press conference. The markets will be extremely violent during the time because it's highly watched by investors and traders.
After the release of the report, US Dollar (USD) rose. USD against JPY (Yen) soared to a new 13-year high. US markets were mixed as investors/traders differently interpret what the jobs reports means for the future.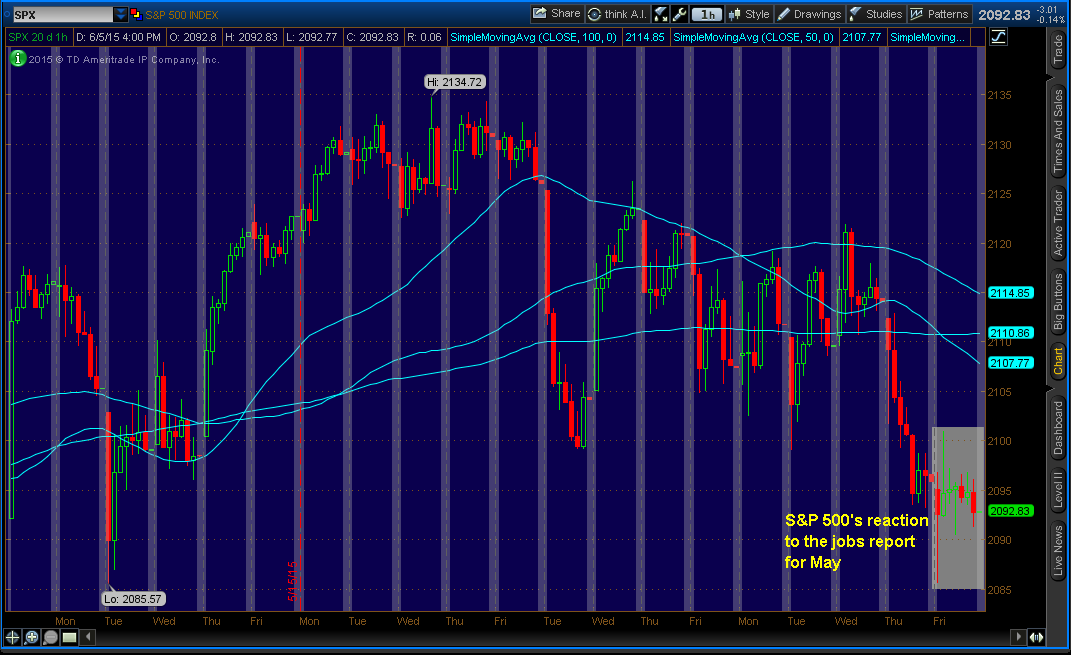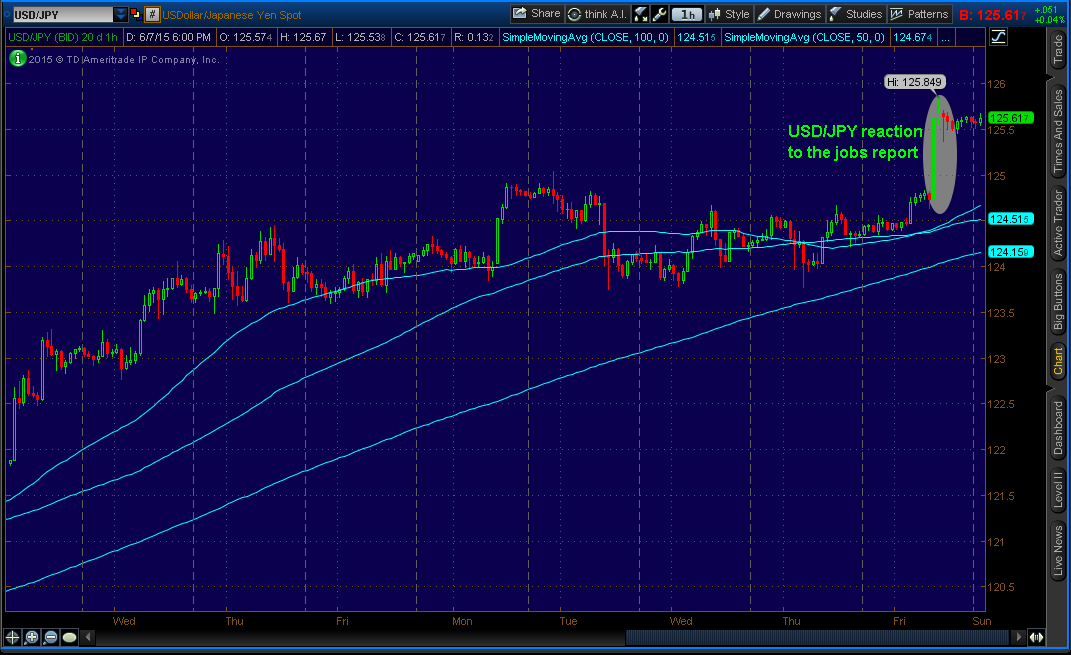 The day before the jobs report, the International Monetary Fund (IMF) slashed its forecasts for US economic growth and called for the Fed to hold off its first rate increase until the first half of 2016. The IMF said a series of negative shocks, including unfavorable weather, a sharp contraction in oil sector investment, the West Coast port strike, and the effects of the stronger dollar, hindered the first quarter of 2015. Thus, it promoted a downgrade to its growth expectations to 2.5% for this year, from 3.1% in April.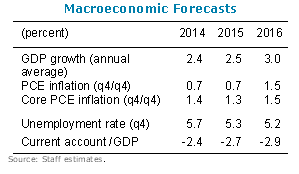 IMF says that FOMC should remain data dependent and act after signs of a pickup in wages and inflation. Well, the jobs report for May was positive, including wages. So is IMF wrong? Did they talk too early? You decide.
In IMF's view, "raising rates too soon could trigger a greater-than-expected tightening of financial conditions or a bout of financial instability, causing the economy to stall. This would likely force the Fed to reverse direction, moving rates back down toward zero with potential costs to credibility." —- "raising rates too late could cause an acceleration of inflation above the Fed's 2 percent medium-term objective with monetary policy left having to play catch-up. This could require a more rapid path upward for policy rates with unforeseen consequences, including for financial stability."
So when is the right time to raise rates? I believe it's in July or September (no meeting in August) only if we continue to see pickup in wages, employment, and Consumer Price Index (CPI). Even through the chance of rate hike in June is very low, I would not be surprised if Fed decides to hike rates. Even if they do, it will be surprising to most people at Wall Street and markets will definitely be violent – I would consider it "mini-SNB" (SNB – Swiss National Bank), because of SNB's action in January (unscheduled release – removing the cap on euro-franc).
Feel free to contact me by going to "Contact Me" above or leave your comments below. Twitter: @Khojinur30. Thank you.