On January 26, 2015, Microsoft reported their quarterly financial results for FY15 Q2 (FisicalYear 2015, Quarter 2 – ending on December 31) and it was below what analysts expected. Thomas Reuters had consensus estimates of $0.71 in earnings per share on $26.33 billion in revenue. Microsoft reported a revenue of $26.470 billion from $24.519 billion in the previous year, 8% increase. Microsoft reported earnings of $0.71 per share from $0.78 in the previous year, 9% decrease (Diluted EPS).
Microsoft stock (MSFT) dropped almost 4% after-hours or from around $47 (4 P.M) to about $45.50 (5 P.M). It continued to drop. The next day, the stock opened at $42.96 and finished the day at $42.6 7. From the announcement of financial results to the next day, the stock dropped about 10%. As of right now, it's around $43.50. I view this as buying opportunity even it rose after almost $3 in almost 2 weeks. I will explain why MSFT is great stock down below.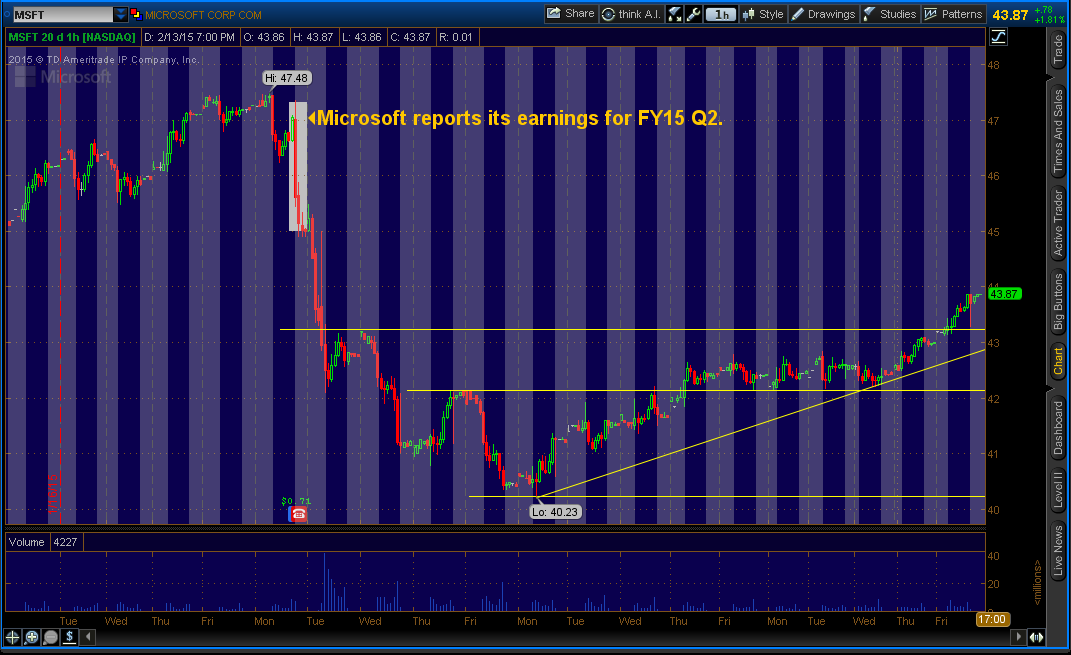 Microsoft's numbers looked weak because of currency and a restructuring charge. U.S dollar has been getting strengthening for some time now. It's having a bad effect on international companies. Microsoft's (International Company) international sales are being converted into fewer dollar, for now. Plus, Microsoft cannot control what happens to Forex market. In the last quarter, Microsoft had $243 million in restructuring charges, $0.02 per share negative impact. It comes from the integration of the Nokia Devices and Services business. Phone hardware revenue came at $2.3 billion, with 10.5 million Lumia units sold. It was successful. $0.04 per share loss came from IRS audit adjustment. Restructuring charges (-$0.02) and IRS audit adjustment (-$0.04) are temporary or one-time events. Succesful revenue from hardware and one-time losses are the two reasons to buy Microsoft stock (MSFT).
Last week, Microsoft showed off a product that I believe is a game-changer, HoloLens. It's a headset with transparent lenses. What you see in reality is transformed into different world with 3-D objects floating, virtual screens, virtual characters and more. I believe it's way better than Oculus Rift. Oculus Rift is designed for gaming only, targeting gamers only. HoloLens can be used for learning and experiencing new era of technology in a new way. Not only it targets gamers, but also non-gamers and people with dreams (creating/inventing products, etc). The price of HoloLens is unknown at this time. It should be affordable and fair if they want to get into mass-market. This is just the beginning and it has the potential to be huge. Hololens is another reason to buy Microsoft stock (MSFT). >>> Microsoft HoloLens YouTube <<<
Another reason is Microsoft's acquisitions of small companies that has potential to grow a lot. Recently, Microsoft announced an acquisition of Revolution Analytics, Equivio and Sunrise. Revolution Analytics is a statistical software company. Equivio is startup producing test analysis software. Sunrise is a developer of calendar apps. So why is Microsoft acquiring small companies? They know that these companies will be very useful and helpful for their products. Therefore, driving up the sales. When they drive the sales (revenue) up, they will make us, the shareholders (or potential shareholders) happy.
Last reason to invest in Microsoft is its dividends. MSFT gives annual dividend of $1.24 at the yield of 2.83%. I would reinvest the dividends, known as DRIP (Dividend Reinvestment Plan). Why? There will no fees or commissions to reinvest, buying additional shares or fraction of a share. Over the long-run, it will benefit you as reinvestment adds up.
If you have any opinions, etc, feel free to leave comments or contact by email (khojinur_us@yahoo.com). Write "FMITBOOK" on subject line. Thank you.
UPDATE 1: I'm still watching MSFT (Microsoft stock ticker) for a good entry. I will go long on it in the future at a good entry price. Microsoft stock and other blue chip stock fell after Intel slashed revenue outlook due to weak PC demand. The decrease in the price of MSFT is still a good buying opportunity. (http://www.outofwacc.com/update-on-microsoft-rbnz-and-upcoming-events-to-watch-out/).
UPDATE 2: Microsoft FY15 Q3 earnings (http://www.outofwacc.com/microsofts-earnings/).