Previous post about Microsoft: http://www.outofwacc.com/microsoft-earnings-game-changer-product-hololens/
Earnings:
On April 23, 2015 (Thursday), Microsoft (NASDAQ: MSFT) reported its Earnings Release FY15 Q3 that exceeded analyst' estimates for both revenue and earnings. Microsoft reported revenue of $21.73 billion for the quarter, up 6.5% year-over-year. Net income fell to $4.99 billion, or 61 cents per share, from $5.66 billion, or 68 cents, a year earlier (10% decline year-over-year).
Microsoft's restructuring plan announced in July 2014 (job cuts) and the ongoing integration of the Nokia Devices and Services business, which Microsoft acquired for $7.2 billion last year, had $190 million, or a $0.01 per share negative impact.
Satya Nadella, CEO of Microsoft, has been changing strategy to focus more on cloud and mobile software, since demand for PCs are decreasing as new technologies are replacing the PCs. Cloud revenue is growing. Overseas sales have been hurt by a strong dollar and geopolitical concerns in Russia and China.
The currency fluctuations, including a  strong dollar had a significant impact on results. Excluding the effect of Forex market, revenue and gross margin would have grown 9% and 4%, respectively, and operating income and EPS would have declined 4% and 7%, respectively.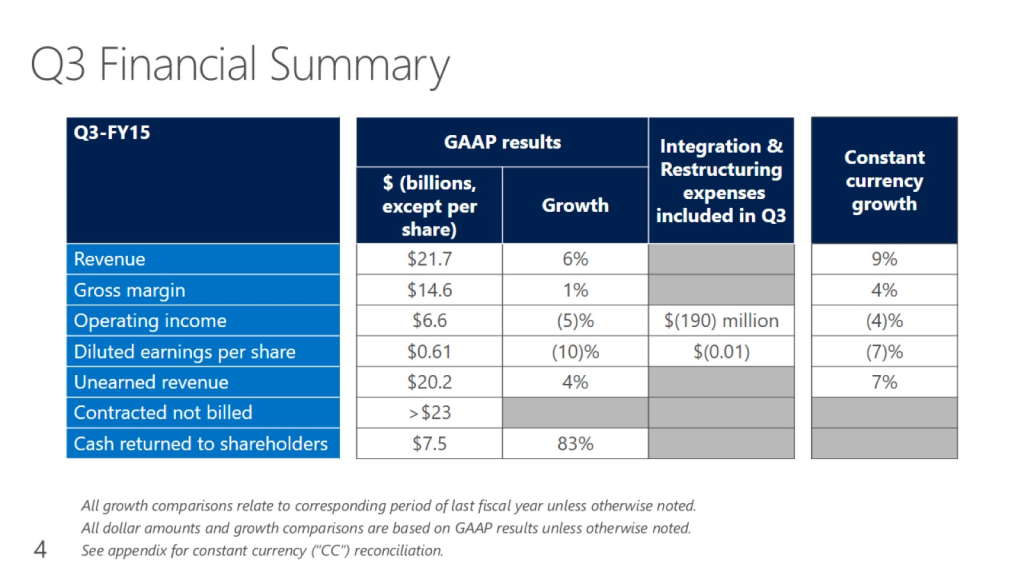 Cloud software sales increased, while demand for personal computer product decreased. Personal computer are dead-end. Commercial revenue grew 5% to $12.8 billion, led by commercial cloud which grew 106%. Cloud market is gaining traction and I believe Microsoft is doing the right thing by focusing more on the cloud market.
Microsoft 10 operating system is coming. Microsoft is offering free upgrades for some customers. Microsoft is hoping that their PC sales will increase after the launch of Windows 10.
Microsoft Build Developer Conference 2015
At Build Conference, Microsoft announced the Windows Holographic Platform for developers to develop apps for HoloLens. Developers would love to get their hands on HoloLens. Microsoft still hasn't disclosed the price and when it will be released. I still believe HoloLens will be the next "Big Thing".
Windows 10 could the first universal Operating System. We soon will find out.
Microsoft announced its replacement for Internet Explorer, Microsoft Edge. The question is "Will it be successful?"
Microsoft (NASDAQ: MSFT) Stock
Investors loved the earnings report. The stock rose more than 10%.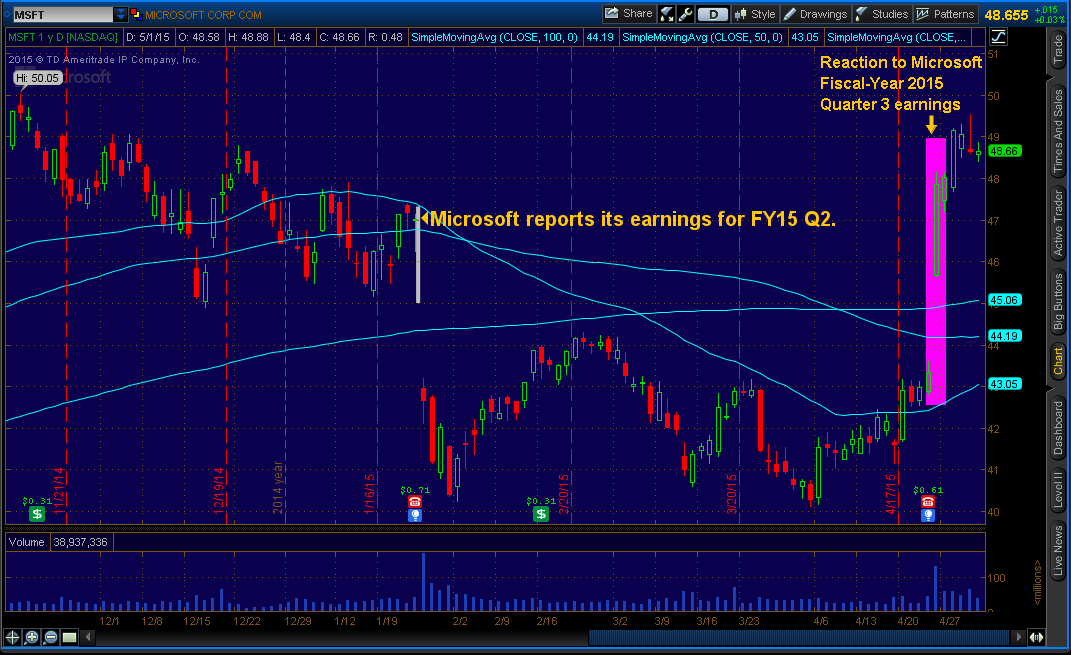 As stated in my previous post about MSFT ( http://www.outofwacc.com/microsoft-earnings-game-changer-product-hololens/ ), I said that the fall in the stock's price was a good buying opportunity. If you took my suggestion, you now have more than 10% return. I still haven't brought MSFT. I may have missed the opportunity. Though my experience in investing, I learned that you should not let your emotions effect your investment decisions. If you missed the opportunity, you missed one of many. There are many other opportunities. All you got to do is catch them.
I still may buy MSFT soon, even at its current price.
If you have any questions or comments, feel free to comment below and/or contact me by going to "Contact Me" page. Thank you.