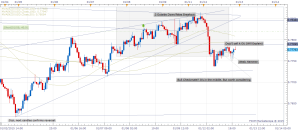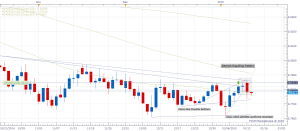 Shorted around 0.7820. As of right now, it's still open.
Trade at your own risk. These are my own opinions and analysis.
Note: The screenshots were taken around the night of Jan 12, 2015.
1H Chart:
It's false breakout because the candlesticks did not close above the line. It's a weak hammer because it's in the middle. Stronger hammers should appear on bottom in a clear trend.
OU – Opposite of U                                                                                                                                                                                  I made up OU because of my experience in chart analysis. I realized that formations like that have strong impact most of the time. It consists of 3 candlesticks. OU can appear anywhere. It signals bearish market.  For it to signal bullish market, it has to be in a formation of U. It doesn't matter what the color of middle candlestick. But it has to be a small body or a doji. First and last candlestick has to be about the same body size with each other.
Daily Chart:
I said "more like Double bottom" because it's not in a "perfect condition" of how real double bottom should look like. It's in a "good" or "75% out of 100% condition"
As you can see, doji was backed or supported by strong support line.
Bearish Engulfing Pattern was very strong because it was backed or supported by resistance and trend line. It was also supported by small body or doji. Forex market is open 24 hours. You may be asking "why is there gap between doji and first candlestick of engulfing pattern?" The answer is that the doji was closed on Friday 5 P.M and first candlestick of engulfing pattern opened on Sunday 5 P.M.
If you have any questions, feel free to contact me anytime.