Last Friday (May 22, 2015), U.S Consumer Price Index (CPI) report for April was released and it was in line with expectations. CPI increased a seasonally adjusted 0.1% in April and core-CPI (excludes food and energy) increased 0.3%, largest since January 2013. CPI reflects what people pay for goods and services. It's an important indicator for inflation. The Federal Reserve watches inflation numbers closely, to determine the health of the US economy and whenever to raise interest rates.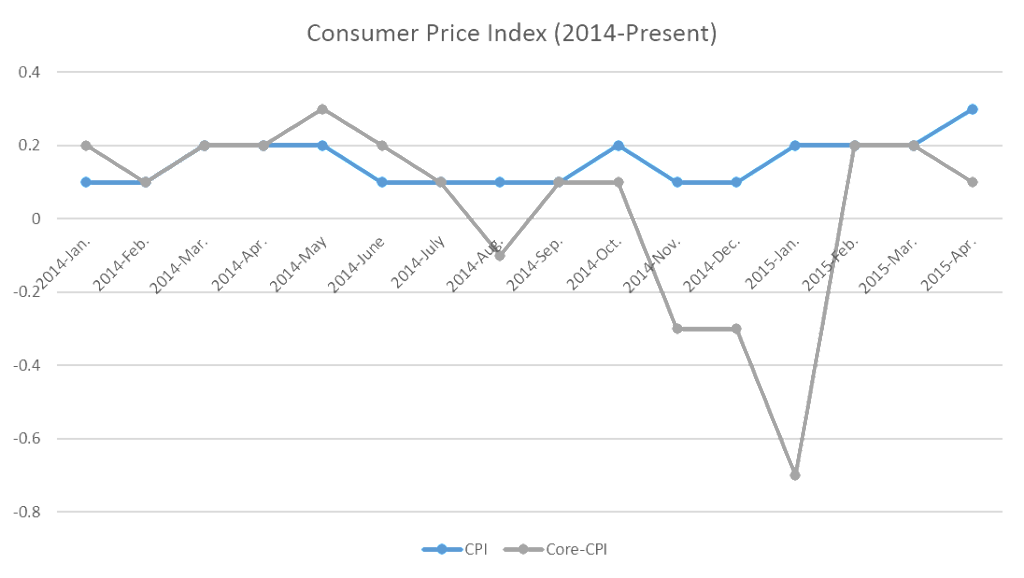 Over the past 12-months, CPI declined 0.2% (biggest year-to-year drop since October 2009), largely due to the plunge in energy prices (energy index), which fell 19.4% over the last 12-months. However, core-CPI (which excludes food and energy, the violent categories) increased 1.8% over the last 12-months.
The positive inflation report may suggest that the Fed may not be that far away from raising interest rates. Stronger numbers gives a sense of relief that the US economy is pulling itself out of a slump that dragged growth down to 0.2% (GDP report previous post) in the first quarter of 2015. However, the inflation is far below the Fed's 2% target.
The positive change in core prices was driven by rising costs for housing, medical care, furniture, and vehicles, while clothing and airfare prices declined. Fall in the oil prices led airplane companies to lower their airfares, to complete with competitors. I believe clothing and airfare prices will start to rise soon because summer is here. In the summer, people tend to travel more often (demand increases), pushing prices up. Oil has rebounded to the range of $60, as oil inventory decreases.
The dollar rose after the CPI report. The greenback (the dollar) gained almost 1%, rising to a highest price level since late-April. US markets were flat on Friday after both the Dow and the S&P 500 hit new records this week.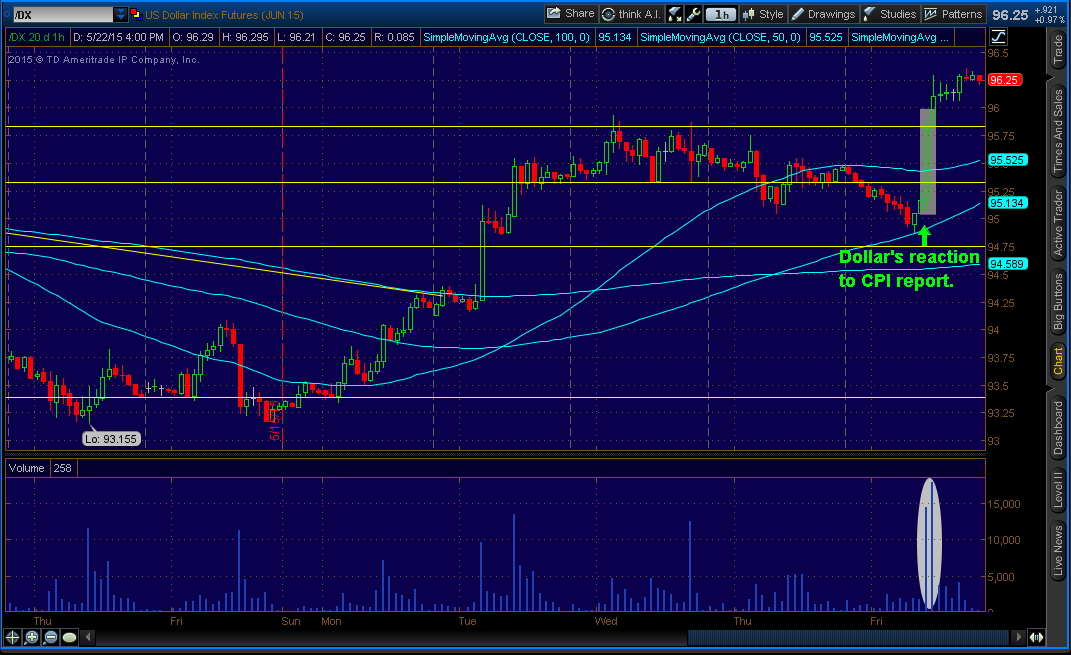 According to Federal Open Market Committee (FOMC) meeting minutes released last Wednesday (May 20, 2015), FOMC expects inflation to gradually rise as the labor market improves and transitory effects such as low oil prices fade away. They believed that there would not be enough information of overall health of US economy to start raising rates at their next meeting in June. The next policy meeting takes place on June 16 and June 17.
Chances of rate hike in June are very low, but the door is not closed. If the next non-farm payroll and Prelim GDP (Gross Domestic Product) (Friday, May 29, 2015) comes out very positive, the Fed will likely raise the rates. Prelim GDP is the second estimate of the last quarter. If you want to know more about the first GDP estimate of the last quarter, click here.
Last Friday (May 22, 2015), Federal Reserve Chairwoman Janet Yellen spoke about the US economic outlook at the Greater Providence Chamber of Commerce Economic Outlook in Rhode Island. She said that the Federal Reserve is on track to raise short-term interest rates this year, but will likely proceed slowly and cautiously.
As to trading, I would go long on the dollar and short EUR/USD. Why would I short EUR/USD? Recently, EUR/USD rebounded all the way to above 1.1450. As of right now, it's around 1.1000. The recent rise in EUR/USD is an opportunity to go short.
News: First, I believe the U.S economy will rebound and future US economic reports will be positive, sending USD higher. Second, I believe Greece will default and eventually leave euro-zone (Greece exiting euro-zone is also known as "Grexit"), which will plunge Euro. Current Greece headlines are just background noises, until we know for sure that Greece will be staying or not.
Technical: If you look at 1-HOUR chart of EUR/USD, you can see that EUR/USD broke a strong support level that used to be resistance. If you look at WEEKLY chart of EUR/USD, you can see that there is a Bearish Engulfing Pattern. Technical seems to be bearish.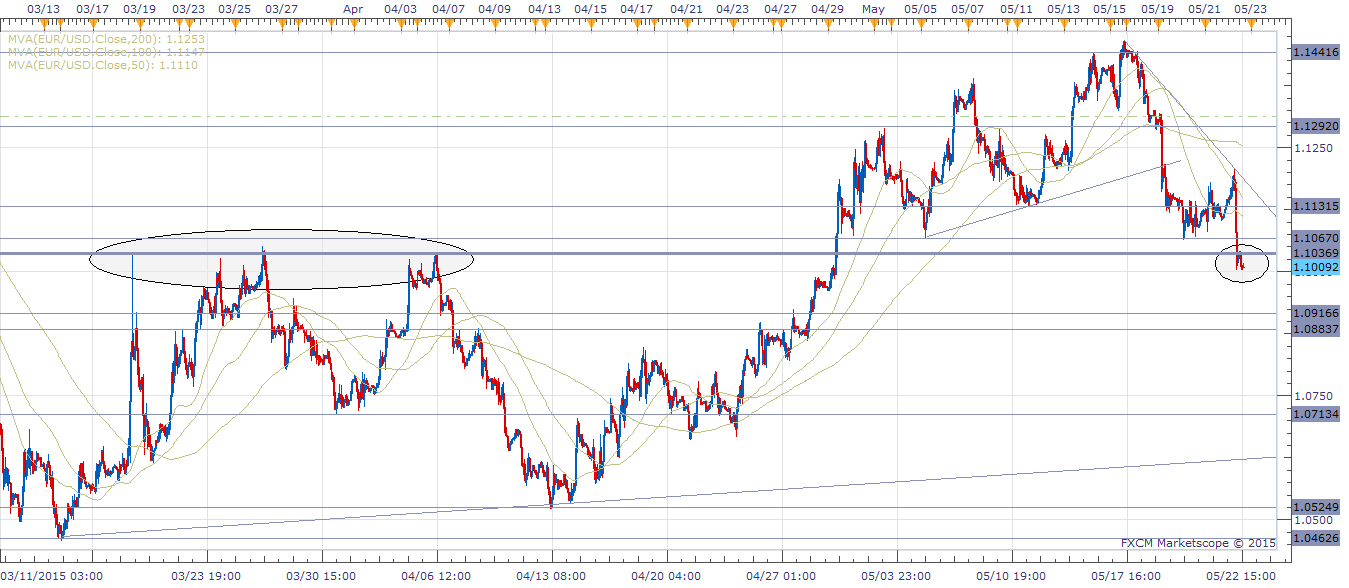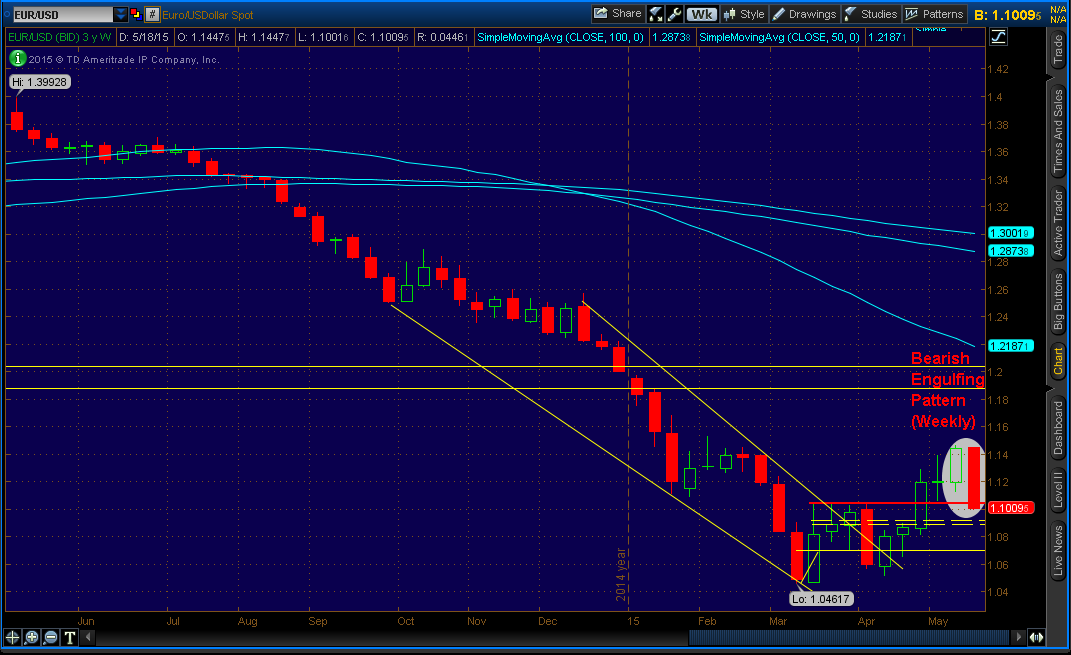 If you have any questions/comments, feel free to leave comments below and/or contact me by going to "Contact Me" box above. I can also be reached on twitter (@Khojinur30). Thank you.