Last Friday (October 2), jobs report for September came out way weaker than expected. Non-farm payrolls report shows 142K jobs were added, vs 200K expectations. Unemployment rate stood unchanged at seven-year low of 5.1%. Not only that, but wage gains stalled, labor force shrank, and July and August gains were revised lower.
July job gains were revised lower to 223K from 245K (-22K) and August job gains were revised lower to 136K from 173K (-37K), totaling downward revisions of 59K. Average jobs gains for third quarter is now at 167K, lower than the 2014 average of 260K. So far, job growth has averaged 198K a month this year, compared with an average gain of 260K a month the previous year.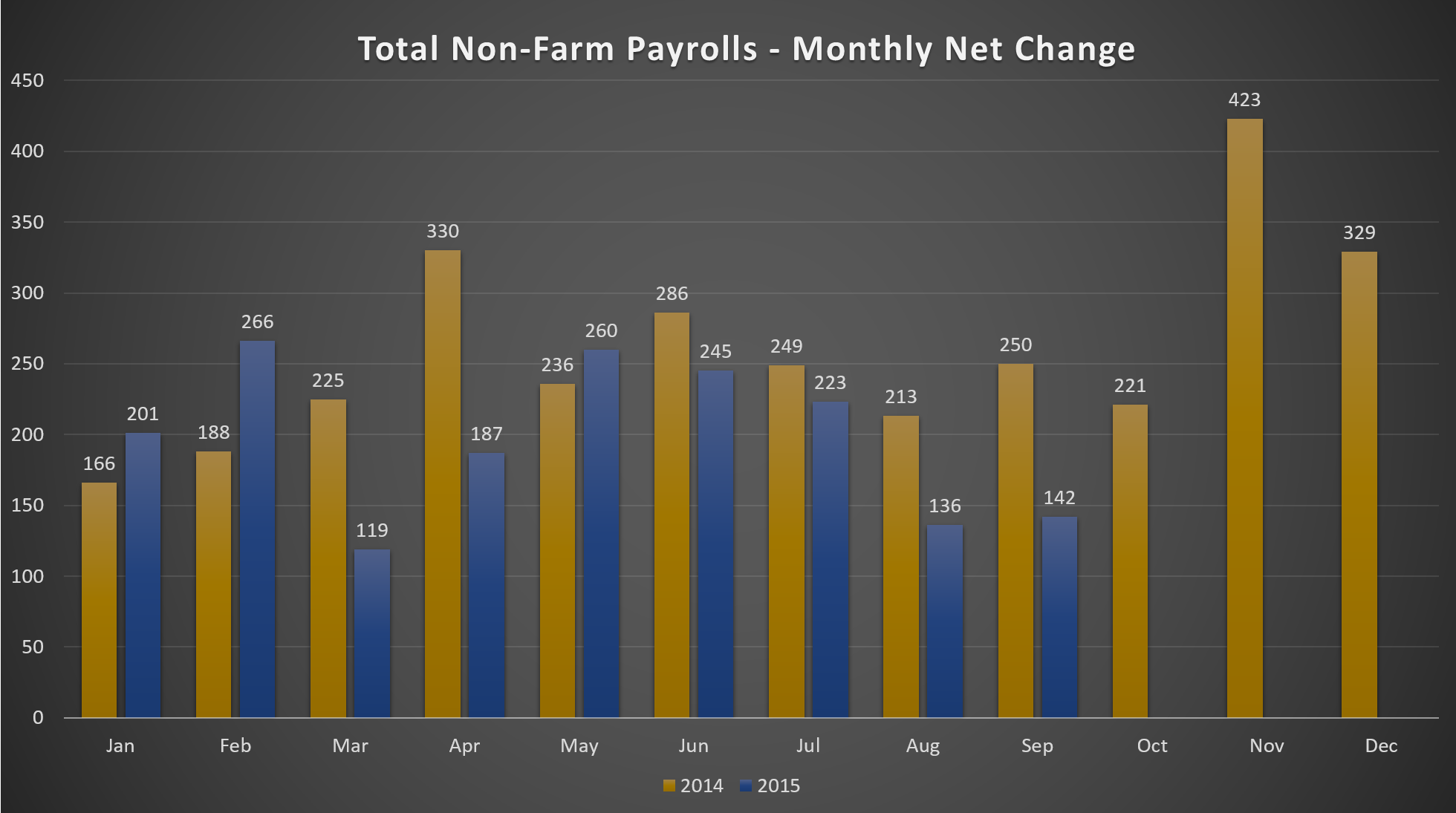 Unemployment rate stayed at 5.1% only because people stopped looking for work. In other words, they lost confidence in the labor market. 350K people dropped out of the labor force which took labor force participation rate fell to 62.4%, the lowest in 38 years (1977), from 62.6% in the previous three months.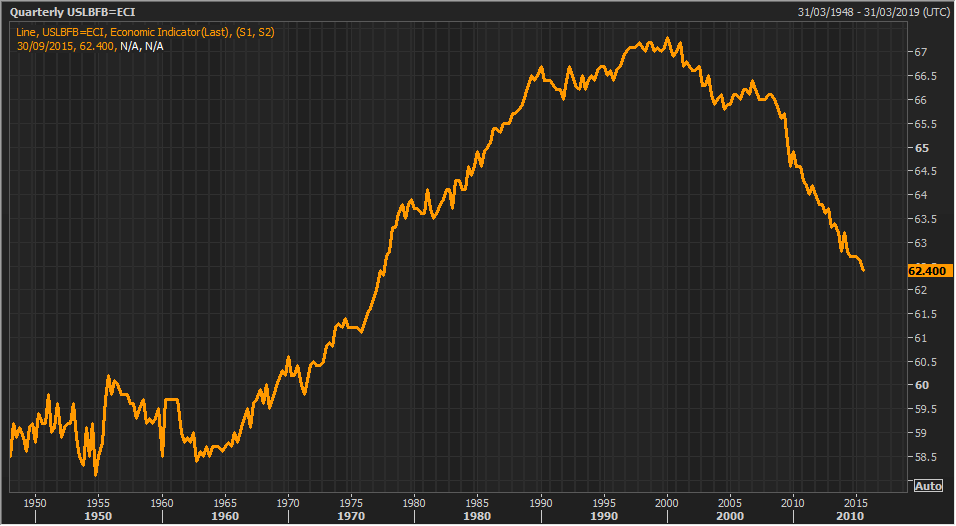 Wages also showed weakness. Average hourly earnings fell by a penny to $25.09 after rising 9 cents in September. The average workweek declined by 0.1 hour to 34.5 hours.
There are increased worries that global slowdown is weighing on the domestic economy. The repulsive jobs report knocked down the chances of a rate-hike for this year. Federal Funds Rate (FFR) shows less than 10% and less than 35% chance of rate hike in October and December, respectively. Regardless of weak jobs growth, I still expect 0.10% rate-hike this month. But, I don't expect 25 basis points for the year. If 0.25% were nothing, the Fed would have raised it already. The Federal Open Market Committee (FOMC) will meet on Tuesday-Wednesday, October 27-28.
Weak jobs report seems to point out a weak third quarter GDP growth following a strong rebound in the 2nd quarter. According to final GDP report released on September 25, second quarter grew at an annual pace of 3.9%, vs previous estimate of 3.7%. Advance (1st estimate) GDP report for the third quarter will be released on Thursday, October 29.
In the first quarter, the economy grew only 0.6% because of strong U.S. dollar, low energy prices, West Coast port strike, and the bad weather. Well, winter is approaching. Who's not to say that the weather will hamper the growth again? The dollar is still strong and the energy prices are still low.
Energy sector continues to struggle. The mining industry – which includes oil and natural-gas drillers — lost 10K jobs last month, totaling 102K losses of jobs since December 2014. Energy companies continue to layoff workers since low energy prices are hurting companies. Energy companies like Chesapeake Energy and ConocoPhillips continues to reduce its workforce and its operations, and cut capital expenditures to offset higher costs.
Earlier in September, the Job Openings and Labor Turnover Survey (JOLTS) report showed that there were 5.8 million job openings in July, a series (series began in December 2000) record and higher than 5.4 million in May, as employers cannot find qualified workers.
It's likely to get worse in the longer-term because of higher minimum wages. If employers pay higher wages, more people, especially teenagers, are likely to drop out and work. If states and companies continue to raise minimum wages, jobs that require skills such as programming, etc, will not be filled in the United States, but in countries with higher amount of education. That's why recent minimum wage increases will batter, not help, the U.S. economy in the longer-term.
Reactions to the jobs report:
US markets fell immediately after the report, but rebounded later. 10-year Treasury yield fell below 2%, to the lowest level since April. US Dollar plunged, but recuperated about half of the losses later.