Hi, humans and some robots that will flood this website's traffic. Are you the one that brought up Bitcoin in Thanksgiving dinner? I will keep this article brief. As I started writing, I got too excited and wrote even more than I initially intended. Writing is powerful.
About 5% of my capital is in Bitcoin ($BTCUSD), Ethereum ($ETHUSD), and Litecoin ($LTCUSD). I suggest you go long these with the amount of money you can afford to lose without pain.
Mind me with "BITCOIN IS IN A HUGE BUBBLE." Don't waste time valuing bitcoin as it were just another type of security. There is no clear way to value these. So why not put the money you can afford to lose? It will just continue rising for who knows how long. Or you will just lose the money and continue to live as usual. Buy and Hold Cryptocurrencies.
Cryptocurrencies are a new asset class that serves decentralized applications (which allows you to do something you do today, but without the middle-man). Like stocks serve companies. Municipal bonds serve states and cities. Etc.
How can I buy Bitcoin? The easiest way to use middle-man brokerages. The most popular one in the U.S. is Coinbase.
As bitcoin price surged, so too have the number of Coinbase accounts. In the past 12 months, the number of Coinbase users increased 167% to 13.1 million. Coinbase now has more accounts than Charles Schwab which has 10.2 million accounts.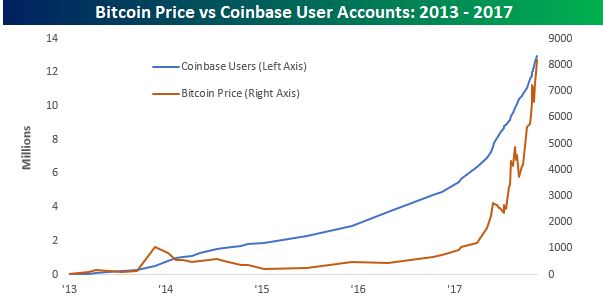 Just today, all three cryptocurrencies, brave people and I hold hit All-Time-Highs (ATH). ATH headlines literally every day when it comes to Bitcoin.
Humans of planet Earth have been calling Bitcoin a bubble since $2000. Yet, it keeps going up and up and up…. Crashes few times about 20-30% time to time. Within days, it will hit ATH again. Like I keep saying to a countless number of people who ask me about Bitcoin. I have no idea where Bitcoin price will be at tomorrow, next week, next month, next year, next decade. But, I'm absolutely willing to put the amount of money I can afford to lose without sadness.
From what I noticed there are two types of people calling Bitcoin a bubble;
Inexperienced people without knowledge of basic economics and finance. Some keep comparing "Bitcoin bubble" to Tulip Bulbs, when in fact they don't know anything about tulips. They still might turn out to be right.
Those people who missed out the increase in Bitcoin's value. They still have an opportunity to buy.
At Delivering Alpha last September (which I did not attend this time around), JPMorgan CEO Jamie Dimon called bitcoin a "fraud" that will eventually blow up. Eventually.
He also joked about his daughter buying some bitcoin, and now she thinks she's a genius. He also called any JPMorgan trader who trades bitcoin stupid and should be fired in a second.
I love and respect Jamie Dimon. But, I have to disagree with him on bitcoin. I'm a big fan of him (in addition to all other CEOs of major financial institutions haha). All jokes aside, I do respect him, his passion, his curiosity, and his opinions.
On the same day of Jamie's comments, I along with other Baruch College students went to Goldman Sachs headquarters for a fireside chat with GS CEO Lloyd Blankfein. One of the questions I wanted to ask him was his reaction to Dimon's comments AKA his opinion on Bitcoin. Didn't get that chance. But, great event! Not long afterward that day, news came out stating Goldman Sachs is exploring a new trading operation dedicated to cryptocurrencies.
The technology behind bitcoin, Blockchain, is the real winner here. How can I and you benefit from it? Find companies that are heavily investing in the blockchain.
Decentralized services have a lot of challenges compared to their centralized counterparts. For one, they are slower.
Visa processed over 42 billion transactions in the second quarter or around 5,500 transactions per second. Whereas Bitcoin's Blockchain is limited to less than 10 transactions per second. To put this in perspective, Bitcoin can only handle about 5% of the transactions that Paypal processes a day.

If you have been following Bitcoin development, you would know there was a "fork" which gave birth to a new currency, Bitcoin Cash (Bitcoin holders got free Bitcoin Cash!!!). Bitcoin cash is capable of handling about 60 transactions per second, a significant improvement I'm not going into depth about those, but to learn more about Bitcoin forks and Bitcoin Cash, check this article, Bitcoin Cash is Bitcoin. A lot of innovation in this space.
Remember, Bitcoin forks gives you free cash…if you own Bitcoin. If you use third-party to buy/sell bitcoin, you might run into some issues which can be worked out with the help of other Bitcoin holders and threats.
Other challenges include the cost of transactions (which Bitcoin Cash also addresses), volatile and uncertain governance, etc.
CME Group recently announced to launch Bitcoin futures at the end of the year. It could lead to more institutional investors entering the market….and more power to bears. But don't let that stop you from buying bitcoin. Even Dimon at the same Delivering Alpha said,
"I am not saying go short. Bitcoin could touch $100,000 before it goes down. So this is not (what you) advise somebody to do."
It is true Bitcoin could touch $100,000 before it collapses 99.99%. Or it could touch $1,000,000 before dying.
So, take 5-10% of your money which you can afford to lose and buy bitcoin and some other digital currencies with big market capitalizations.
Warning: Be careful. Some people had their cryptocurrencies stolen. Coinbase posted useful post on how to protect your digital currencies.
People who got hacked seems to be the people that announced to the public (via Twitter, blogs, etc) they are invested in the new asset class. While back, I tweeted I'm invested. And now this blog. I'm scared!!!

Take some precautions.
I wrote this article right after my parents asked about Bitcoin and expressed an interest to buy it. I was shocked to hear my parents say it. So now I will interview them, get access to their finances, and decide whatever they should invest in it or not. If so, by how much? #HelpPeopleAchieveTheirFinancialGoals
Bitcoin is up 1,195% in the past year.
Price targets for the next 5 years assuming it maintains that growth rate…
Nov 2018: $121,717
Nov 2019: $1,576,056
Nov 2020: $20,407,680
Nov 2021: $264,250,362
Nov 2022: $3,421,665,147$BTC.X

— Charlie Bilello (@charliebilello) November 26, 2017
Disclaimer: The views expressed and any forward-looking statements are as of the date indicated and are those of the author. Discussions of individual securities, or the markets generally, are not intended as individual recommendations. Future events or results may vary significantly from those expressed in any forward-looking statements; the views expressed are subject to change at any time in response to changing circumstances in the market. Khojinur Usmonov disclaims any obligation to publicly update or revise any views expressed or forward-looking statements.