In the previous article, Houston (Fed), We Have A Problem (Problems) – Part 1/2, I addressed two risks (growing monetary policy divergence and emerging markets)  that will force the Fed to "land" (lower back) rates this year. I will address more risks here.
One huge risk that I will not address here, but will address in a future article is "lack of liquidity". While I was doing research, I came across more information that I expected. I'm still getting more information and I believe it will be a great article. I will give a sneak peek of the article in the bottom of this article.
Junk Bonds, Credit Spreads, Energy, Manufacturing, Earnings Decline:
Earlier last month (December 10, 2015), Third Avenue's Focused Credit Fund (FCF), a large mutual fund specializing in risky, high-yielding bonds, announced it would block investor redemptions, "no further subscriptions or redemptions will be accepted." In mid-2014, they had $3.5 billion assets under management (AUM). As of December 31, 2015, they only had AUM of $660.67 million, as investors rushed to get their money back because of weakness in the junk bond market.
Now, investors' money are being held hostage. "The remaining assets have been placed in a liquidating trust", said David Barse, CEO of the firm, as the investor requests for redemptions and the "general reduction of liquidity in the fixed income markets" made it impossible for the fund to "create sufficient cash to pay anticipated redemptions without resorting to sales at prices that would unfairly disadvantage the remaining shareholders."
The process is a pain in the ass, "Third Avenue anticipates that the full liquidation process may take up to a year or more." Again, investors' money are being held hostage.
This events highlights the danger of "over-investments" into risky areas, high levels of corporate debt, AND the lack of liquidity (will be addressed in a future article). With interest rates hovering around 0 (well, before the rate-hike in December), U.S. companies have rushed to issue debt.
Investors who poses a higher risk appétit can find junk bonds, yielding higher interest rates, to be "useful" for their style and capacity of investment. More rewards for more risks, right?
As the global economy continues to struggle, namely China and emerging markets, yield on junk bonds have been increasing since they are a higher chance of defaulting.
Rising interest rates adversely impact bond prices, pushing their yield of the bond higher (inverse relationship). While increase in rates does not largely affect junk bonds since they have a higher coupon (yield) and shorter maturities (shorter maturity means less price sensitivity to rates), current junk bond market combined the impacts of a stronger dollar and low commodity prices can be extremely adverse and dangerous.
High-yield debt yields, as represented by Bank of America Merrill Lynch U.S. High Yield Master II Effective Yield, have been increasing since mid of last year. It rose from 5.16% (June 23, 2014) to current 9.23%. That's whopping 78.88% increase, representing the growing risks of junk bond market.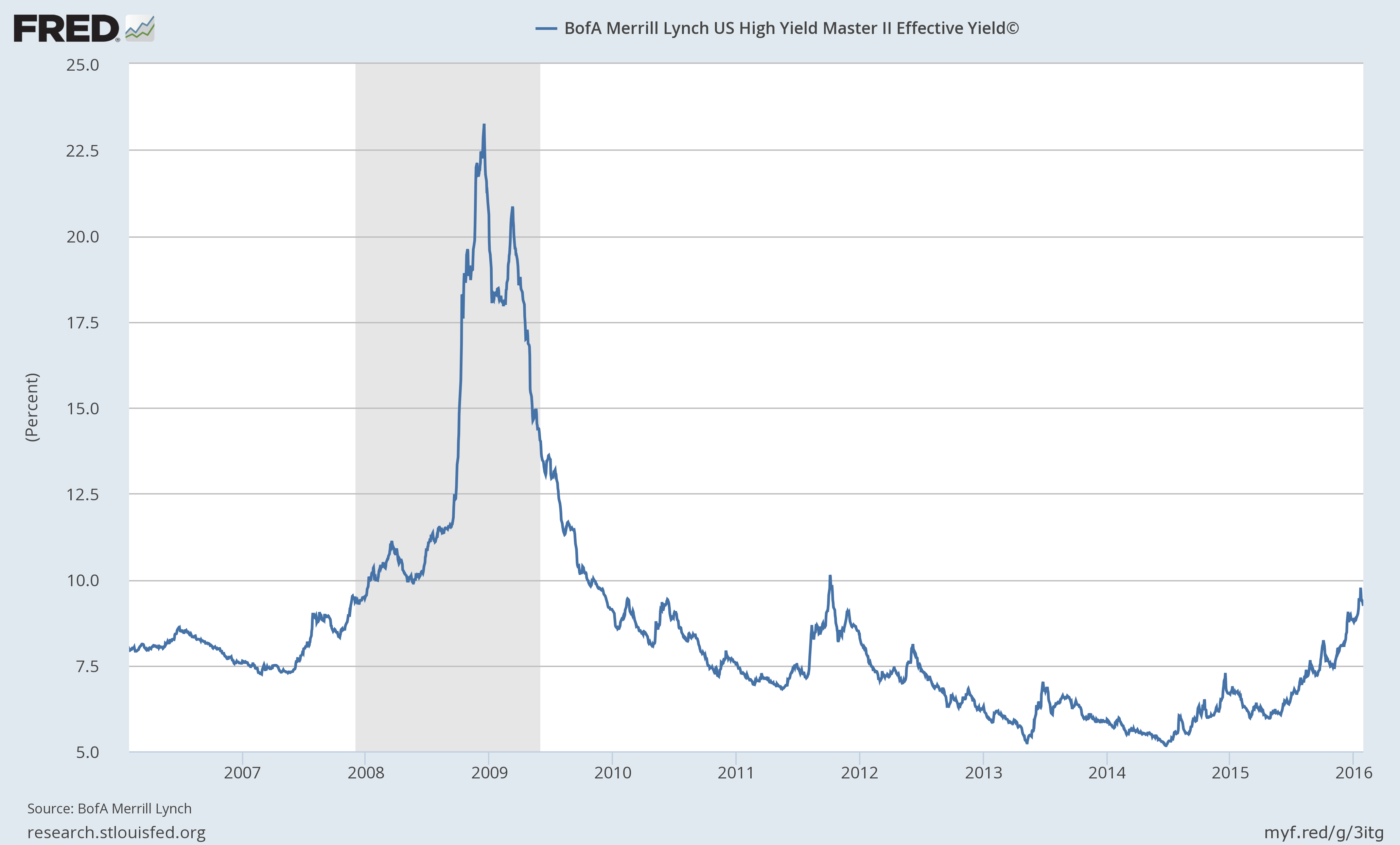 According to Lipper, investors pulled out a total $13.88 billion from high-yield funds in 2015, with $6.29 billion in December alone. As redemptions increase, funds may suffer as high-yields are harder to trade due to its lack of liquidity (will talk more about the major risk of illiquidity in a future article) and funds may have to take an action like the Third Avenue did.
Credit spreads (difference in yield between two bonds of similar maturity but different credit quality) are widening, which possibly signals a wider economic trouble ahead. Widening credit spreads mark growing concerns about the ability of borrowers to service their debt. Not only borrowers will suffer, but also lenders since they lost money.
BofA Merrill Lynch US High Yield Master II Option-Adjusted Spread, representing the credit spread of the high yield bond market as a whole, have been increasing the middle of 2014. It's currently at 775 (7.75%) basis points (bps).
BofA Merrill Lynch US High Yield CCC or Below Option-Adjusted Spread is currently 1,804bps wide (18.04), a level of highly distressed territory. Credits are defined as distressed when they are trading more than 1,000bps (10%) wide.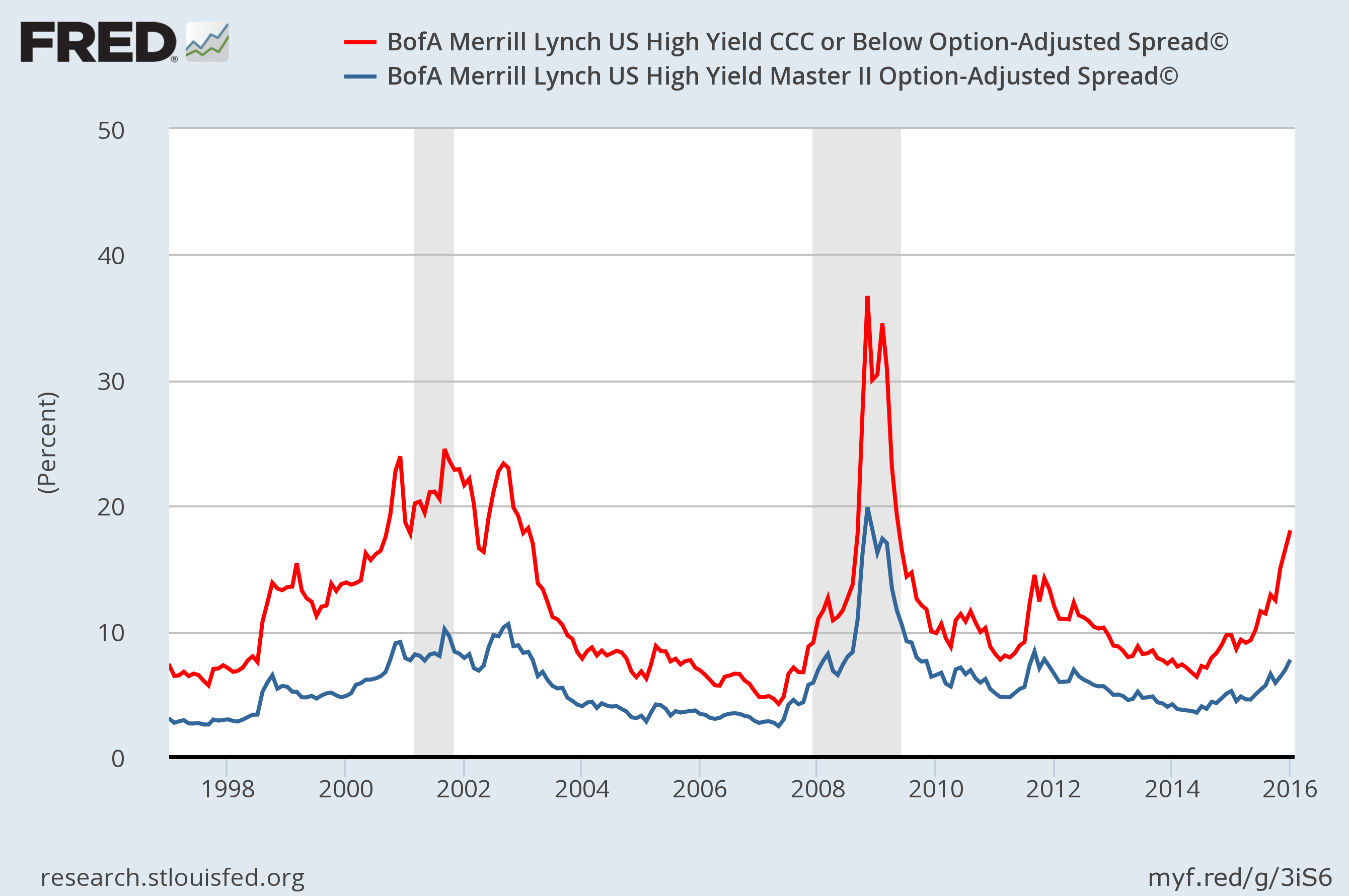 I believe it will continue to increase this year, reflecting the worsening of the credit conditions that would cause greater concern among investors and policymakers (Hi, Ms. Yellen. Time to reverse the policy?)
iShares iBoxx $ High Yield Corporate Bond ETF (NYSE: HYG), an index composed of U.S. dollar-denominated, high yield corporate bonds, is already down 1.39% year-to-date (YTD) and was down 10.58% in 2015, expressing the increasing uncertainty by the investors, as they pull back their money from high-yielding bonds/ETFs. The exposure of the index to CCC rated bonds, B rated bonds, and BB rated bonds, are 8.88%, 38.73%, and 50.25%, respectively. Stronger U.S. dollar and lower commodity prices are expected (and it will) to hurt the earnings of U.S. companies, increasing the chances of defaults, especially in energy.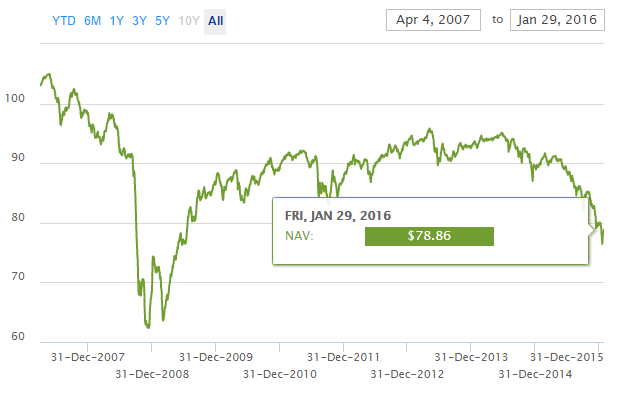 The index's energy exposure is 9.38%. Recently oil prices plunged to levels under $30. Energy companies borrowed a lot of debt during oil price boom, to increase production (so that they can gain more market share), are now being haunted by their own actions. A lot of energy companies are currently under an extreme pressure to make a dime, as oil prices plunge. According to law firm Haynes and Boone, 42 North American oil and gas producers filed for bankruptcy last year. Those 42 defaults account for approximately $17 billion in cumulative secured (over $9 billion) and unsecured debt (almost $8 billion).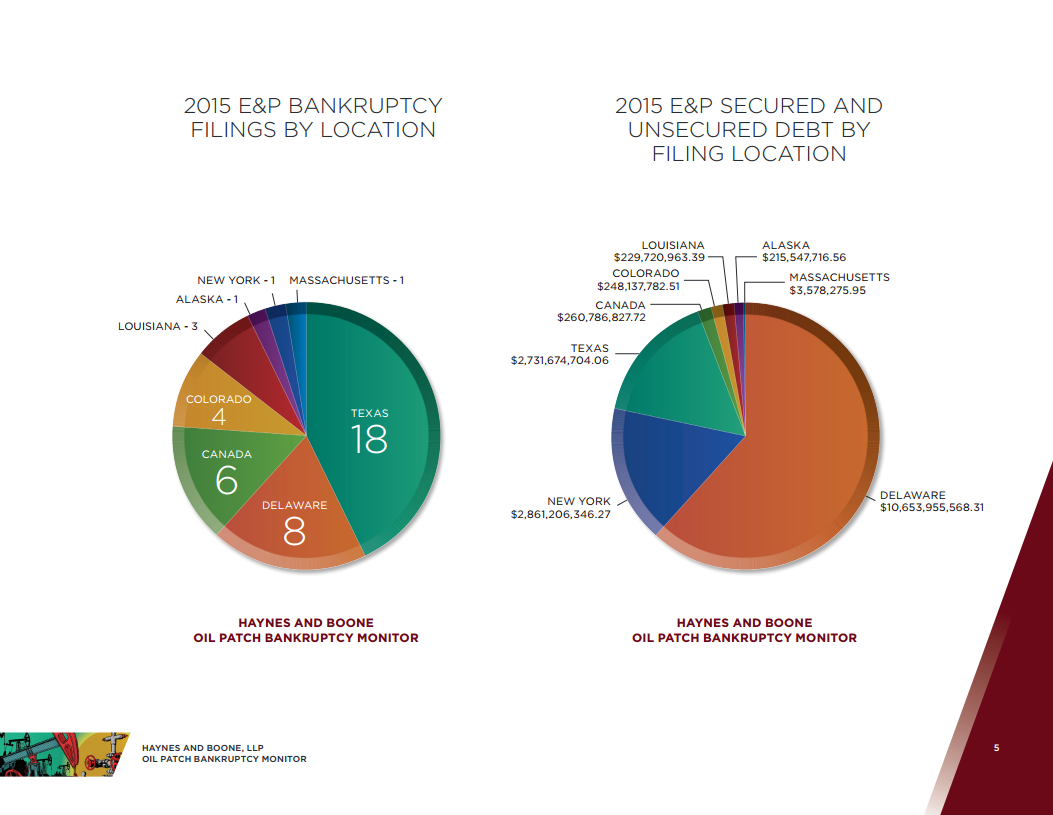 Out of those 42 bankruptcy filings, 18 of them come from Texas, a leading state in energy production. According to U.S. Energy Information Administration (EIA), Texas had a capacity of over 5.1 million barrels of crude oil per day and accounted for 29% of total U.S. refining capacity, as of January 2015, and accounted for about 29% of U.S. gas production in 2014.
In 2014, Texas gross domestic product (GDP) increased 5.2% year-over-year (Y/Y), the second greatest change in state GDP after North Dakota. Mining industry accounted for 1.25% increase to GDP, its largest contributor. Texas's GDP accounted for 9.5% of U.S. total GDP in 2014.
The collapse of energy prices over the past several years are "fracking" down the Texas economy. The Dallas Federal Reserve's general business activity index "collapsed" to -34.6 in January, the lowest reading since April 2009, when Texas was in recession. Same with company outlook index, it fell to -19.5 in January from -10.5 in December.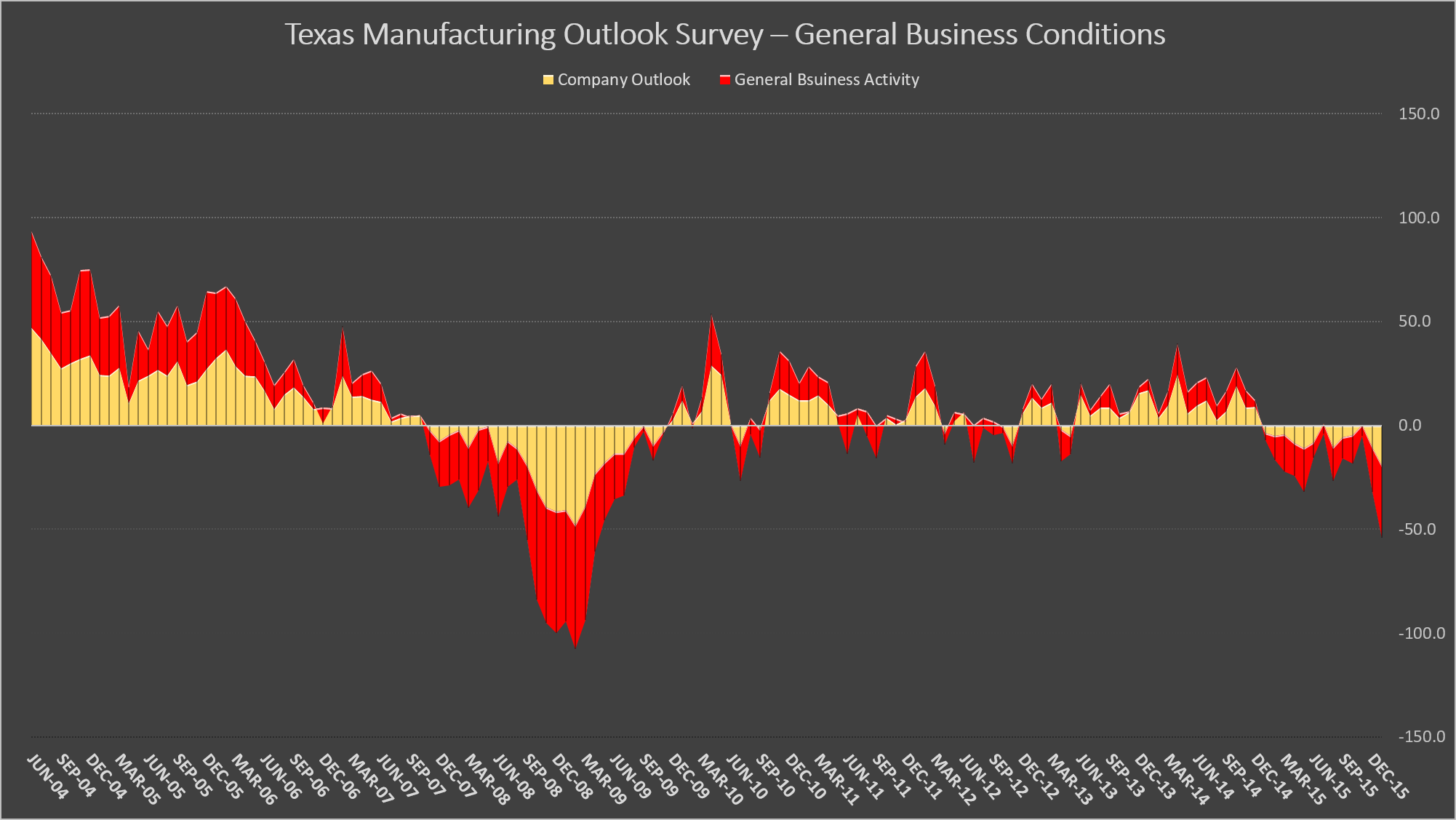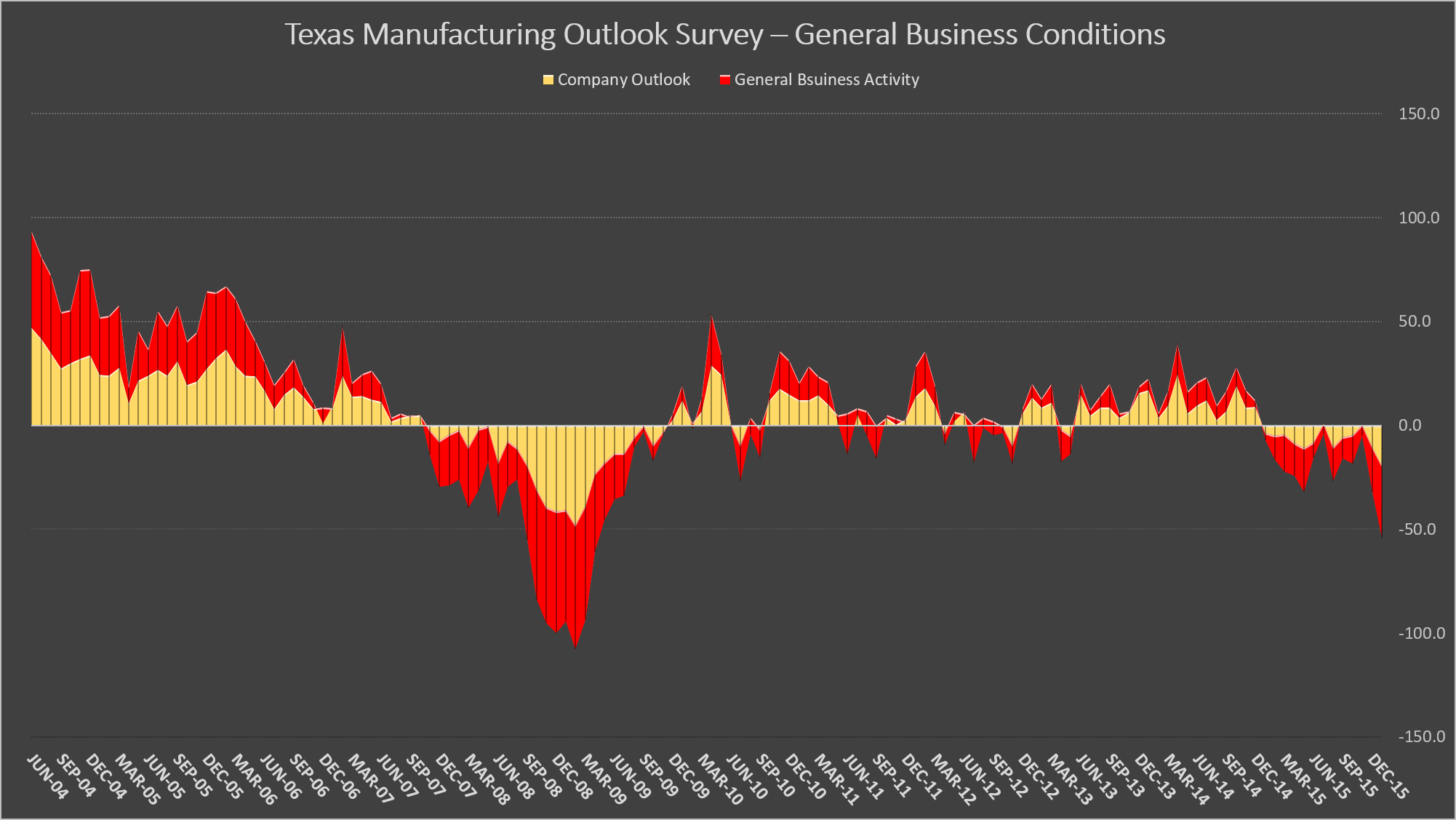 The production index – a key measure of state manufacturing conditions – fell all the way from 12.7 in December to -10.2 in January. New orders index fell -9.2 in January from -7 in December.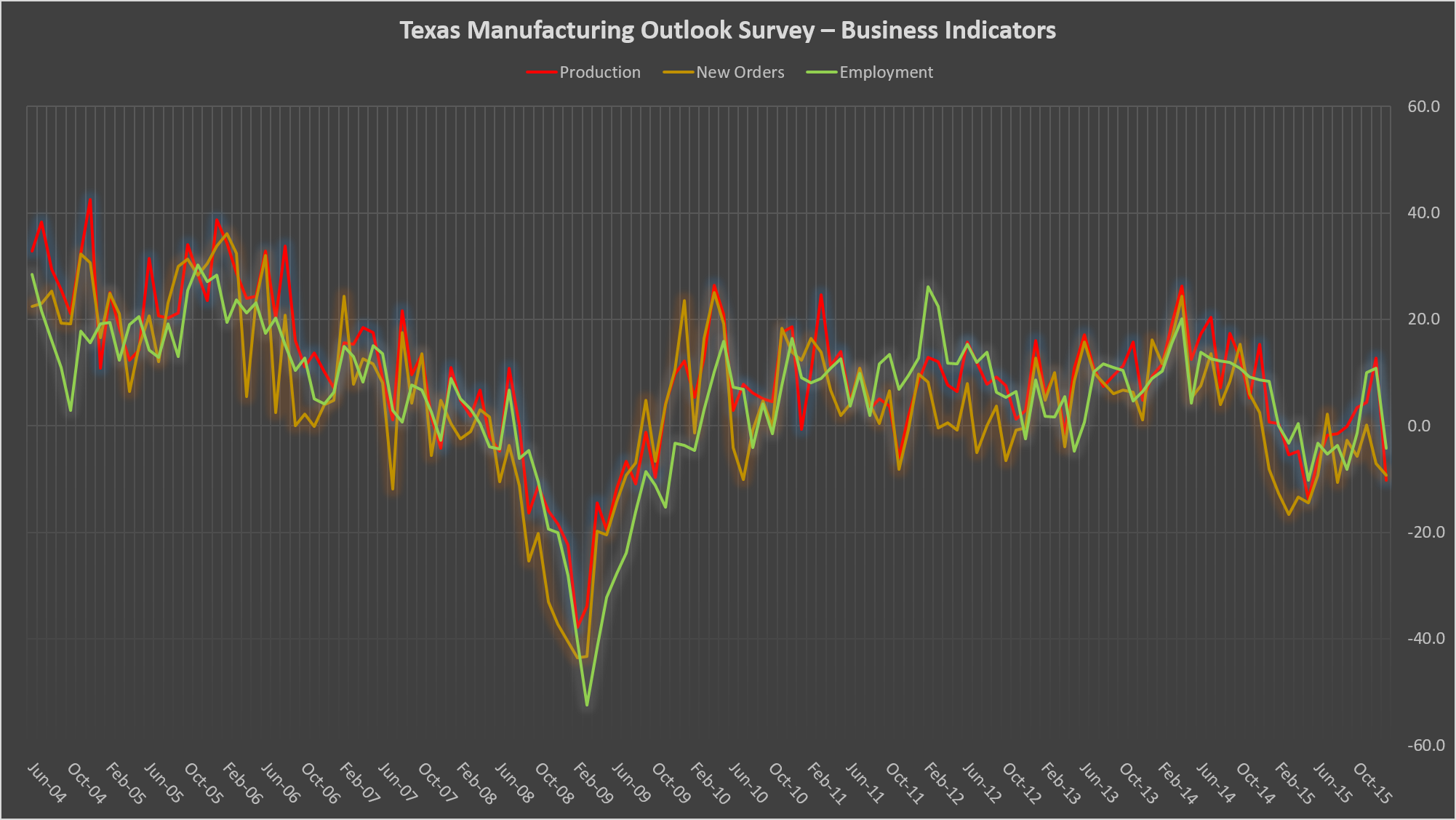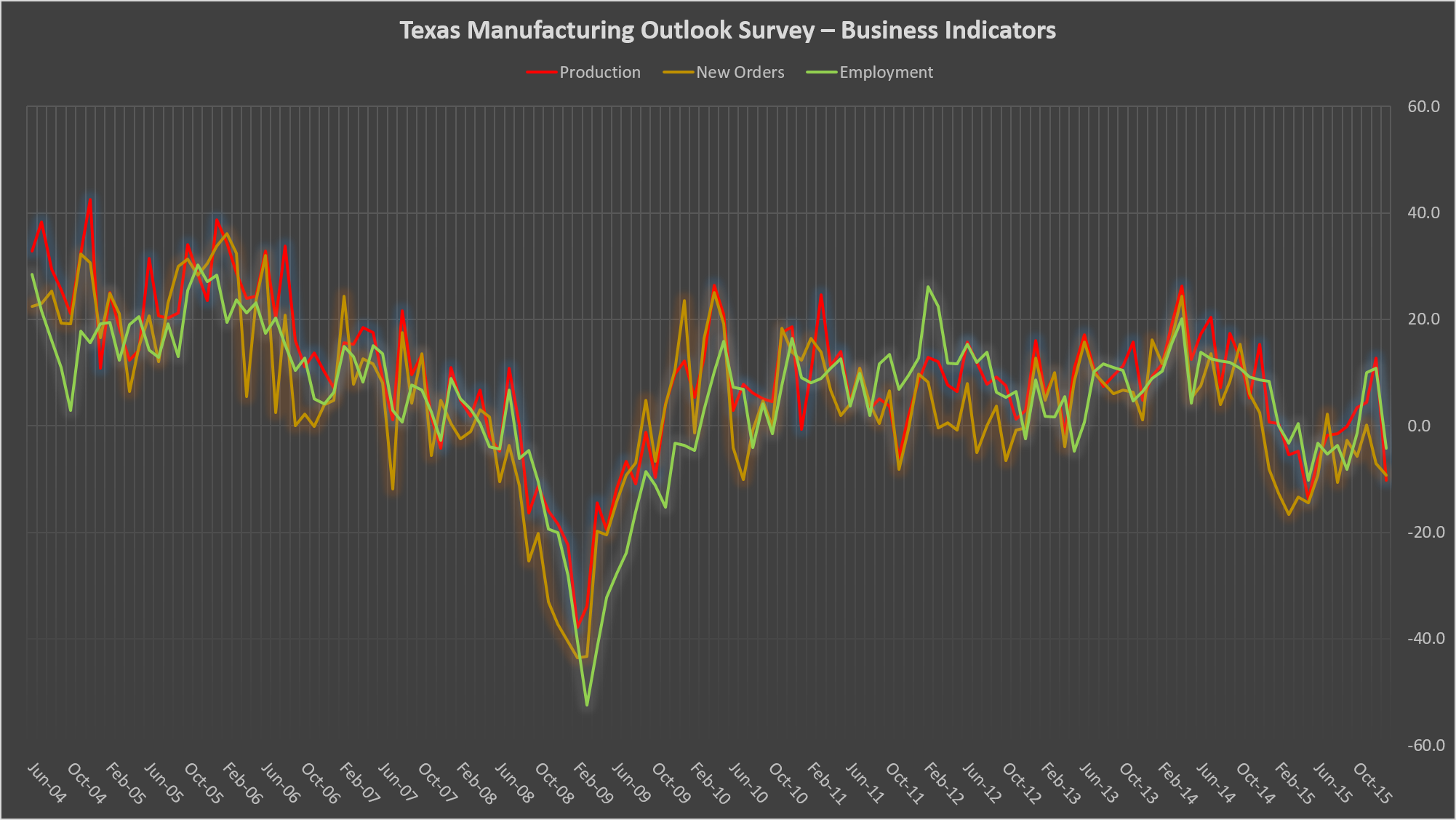 Employment Index, on the other hand, sharply dropped to -4.2 in January from 10.9 in December. Texas is a home to many energy giants, such as Schlumberger (NYSE: SLB), Halliburton (NYSE: HAL), Baker Hughes (NYSE: BHI), Exxon Mobil (NYSE:XOM), and ConocoPhillips (NYSE:COP). The companies slashed off tens of thousands of jobs over the past year and cut capex significantly, as the current stressed energy market heavily weighted on them.
In January 21, Schlumberger reported 38.7% decrease in fourth quarter revenue Y/Y, and net income declined substantially to a loss of $989 million, compared with profit of $317 million in the same period of 2014. Texas-based energy giant's North American region 4th quarter revenue fell 54.79% to $1.9 billion from $4.3 billion in the same quarter of 2014. The company's earnings announcement warned of a "deepening financial crisis in the E&P industry, and prompted customers to make further cuts to already significantly lower E&P investment levels. Customer budgets were also exhausted early in the quarter, leading to unscheduled and abrupt activity cancellations." As a result of a weaker quarter and worsening conditions, they plan to lay off 10,000 workers, adding to already laid-off 34,000 workers, or 26% of its original workforce, since November 2014.
On Monday (January 25, 2016), Halliburton reported its fourth quarter earnings. Halliburton's 4th quarter revenue fell 42% in Y/Y to $5.08 billion, including a 54.4% plunge to $2.1 billion in its North American region, which accounted for 42.4% of total revenue in 4Q.  On a GAAP basis, the Texas-based energy giant (and another one) reported a quarterly net loss of $28 million ($0.03 per share) compared with net income of $9.01 million ($1.06 per share) in the fourth quarter of 2014.
On Thursday (January 28, 2016), Baker Hughes reported a 48.85% decrease in fourth quarter revenue to $3.4 billion from $6.6 billion in the same period of 2014. On GAAP basis, the Texas-based energy giant (and another one) reported a quarterly net loss of $1 billion ($2.35 per share) compared with net income of $663 million ($1.52 per share) in the fourth quarter of 2014. Its North American region revenue fell 65.59% to $1.14 billion in the fourth quarter, compared with $3.30 billion in the fourth quarter of 2014.
Chevron Corp., (NYSE: CVX), California-based energy giant, posted its first loss since the third quarter of 2002 on Friday (January 29, 2016). It reported a fourth quarter loss of $588 million ($0.31 per share), compared with $3.5 billion ($1.85 per share) in the same period of 2014. During the same period, its revenue fell 36.5% to $29.25 billion from $46.09 billion.
Below is a graph by EIA, showing how the cost of debt service for U.S. oil producers has grown since 2012. In the second quarter of 2015, more than 80% of these producers' cash flow went to service their outstanding debt, leaving very little cash to fund operations, to pay dividends, and to invest for the future. To adjust to those pains, the producers have significantly reduced capital expenditures.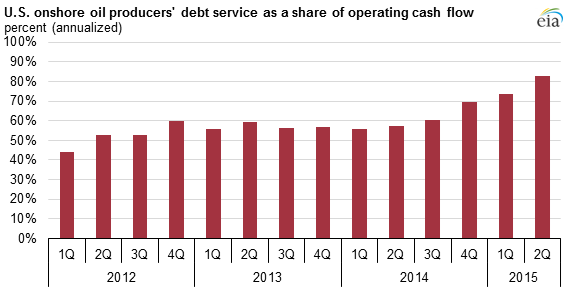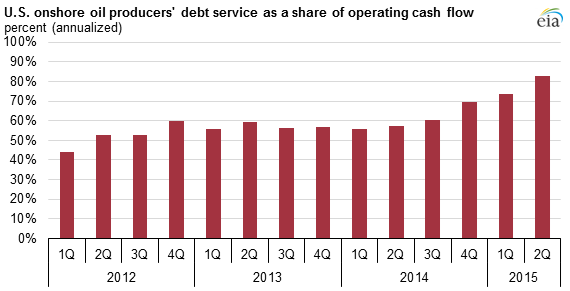 During the end of Q2 2015, oil prices were around $58. It's currently at $38. Clearly, the situation has only gotten worse.
Both Exxon Mobil and ConocoPhillips will report its fourth quarter earnings next week.
---
I believe oil prices have hit bottom and it won't break $27 this year.
I BELIEVE THE OIL HAS HIT BOTTOM. I'M GOING LONG!!!$CL_F

— Khojinur Usmonov (@Khojinur30) January 20, 2016
Why do I say that?
I believe the market already priced in Iran's entry into oil war. Recently, hedge fund bearish bets on oil were at all-time high (crowded trade). Crowed trade includes: a large numbers of participants who share similar beliefs and heavy short-term bag holders (speculators). I tend to take advantage of this types of situations.
Not only bearish bets on oil are at all-time high and not only I believe Iran is already priced in, but some OPEC countries, including Nigeria and Venezuela, already started calling for emergency meetings to try to cut production. I'm starting to believe that they can no longer handle the pain. While this is a political game – to gain and preserve more market share – it won't last long enough to get oil breaking below $27. They can no longer bluff.
For many OPEC members, operating costs are around $30. With slowing global growth, they can't afford to have even lower oil prices.
Conclusion: Oil has hit bottom and it won't break below $27 this year. If you disagree with me, feel free to comment below.
---
Speaking of junk bonds, the energy sector makes up about a fifth of the high-yield bond index. Fitch Ratings forecast the US high yield energy sector default rate to hit 11% this year, "eclipsing the 9.7% rate seen in 1999."
According to Fitch Ratings, at the beginning of December of last year, "$98 billion of the high yield universe was bid below 50 cents, while $257 billion was bid below 80 cents. The battered energy and metals/mining sectors comprise 78% of the total bid below 50 cents. In addition, 53% percent of energy, metals/mining companies rated 'B-' or lower were bid below 50 at the start of December, compared to 16% at the end of 2014, reflecting the decline in crude oil prices."
Not only energy companies will suffer, but also banks. The biggest U.S. banks – Morgan Stanley, Citigroup, Bank of America, Goldman Sachs, Wells Fargo, and JPMorgan Chase – have exposure to energy as part of their overall portfolios.
Morgan Stanley: Energy exposure assumed at 5% of total loans.
Citigroup: Energy exposure assumed at 3.3% of total loans.
Bank of America: Energy exposure assumed at 2.4% of total loans.
Goldman Sachs: Energy exposure assumed at 2.1% of total loans.
Wells Fargo: Energy exposure assumed at 1.9% of total loans.
JPMorgan Chase: Energy exposure assumed at 1.6% of total loans.
According to Fitch Ratings, exposure to energy sector were "cited as higher risk segments for the banks."
The collapse in oil prices, strong U.S. dollar, and weakening global economy "crippled" manufacturers across the country. The Empire State manufacturing index fell to -19.4 in January from -6.2 in December, the lowest level since March 2009. The reading suggests manufacturing sector is slowing down and it raises questions about the outlook for the economy.
Manufacturing is very important to the U.S. economy. According to National Association of Manufacturers (NAM), there are 12.33 million manufacturing workers in the U.S., accounting for 9% of the nation's workforce. Manufacturers recently contributed $2.18 trillion to the U.S. economy. "Taken alone, manufacturing in the United States would be the ninth-largest economy in the world." according to NAM. For more facts and details, click here.
The manufacturing index have been below zero since July. Not only did the headline fell, but so did new orders index and shipments index. New orders fell 23.5 in January from -6.2 in December. Shipments fell -14.4 in January from 4.6 in December.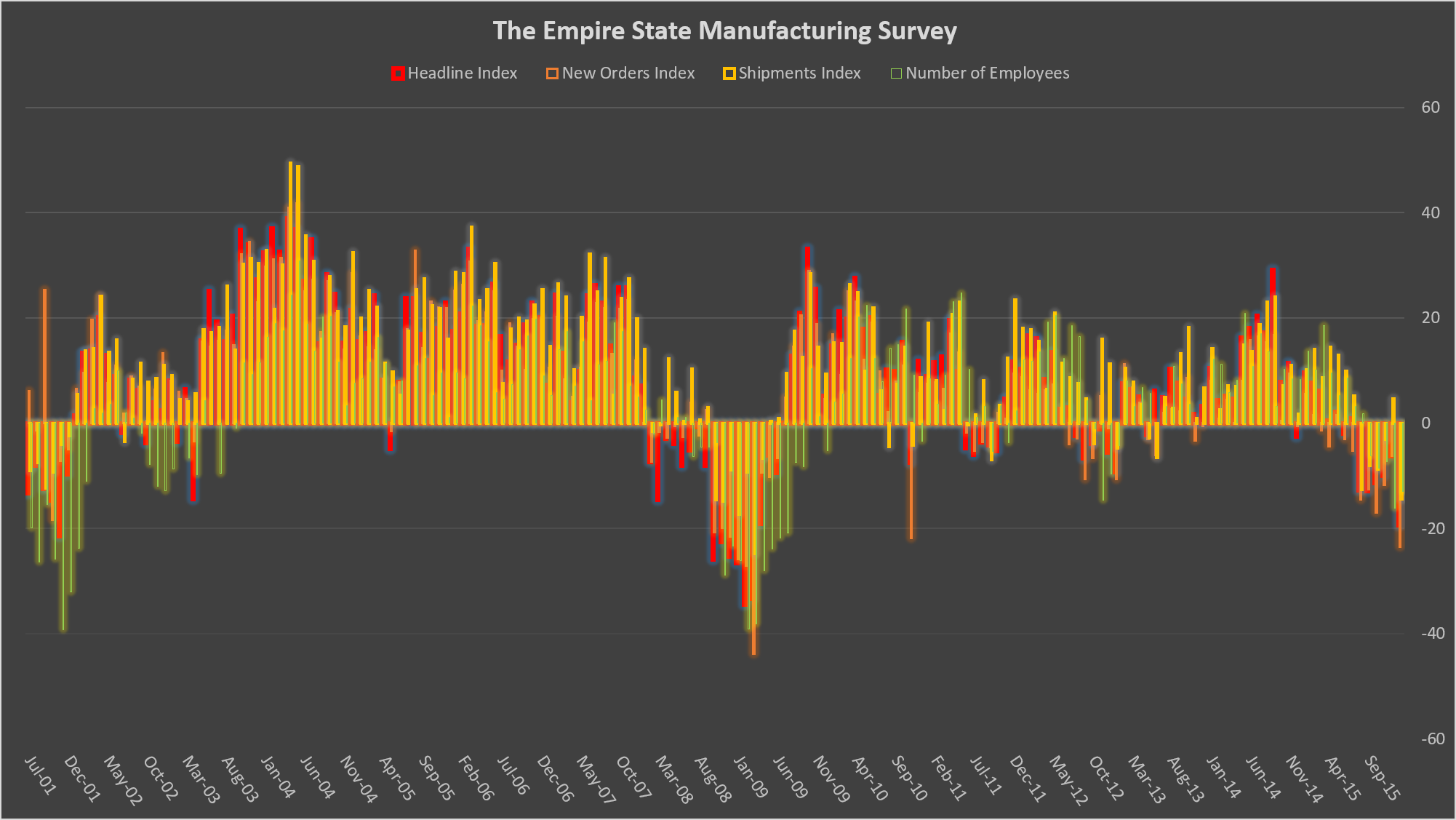 Slump in new orders can shift the production into lower gear and possibly jeopardize jobs. The employment (number of employees) index continued to deteriorate for a fifth consecutive month. The weaknesses in the Empire State indexes suggests that the earnings of manufacturers are under pressure.
According to FactSet, the S&P 500 is expected to report a Y/Y decline in earnings of 5.7% for the fourth quarter. For Q4 2015, the blended earnings decline is -5.8%. A Y/Y decline in earnings for the fourth quarter will mark the first time S&P 500 has reported three consecutive quarters of Y/Y declines in earnings since Q1 2009 through Q3 2009.
For Q1 2016, 33 companies out of S&P 500, so far, have issued negative EPS guidance and 6 companies have issued positive EPS guidance.
Another drag on earnings can be the current inventories to sales ratio. Since early 2012, the ratio has been increasing.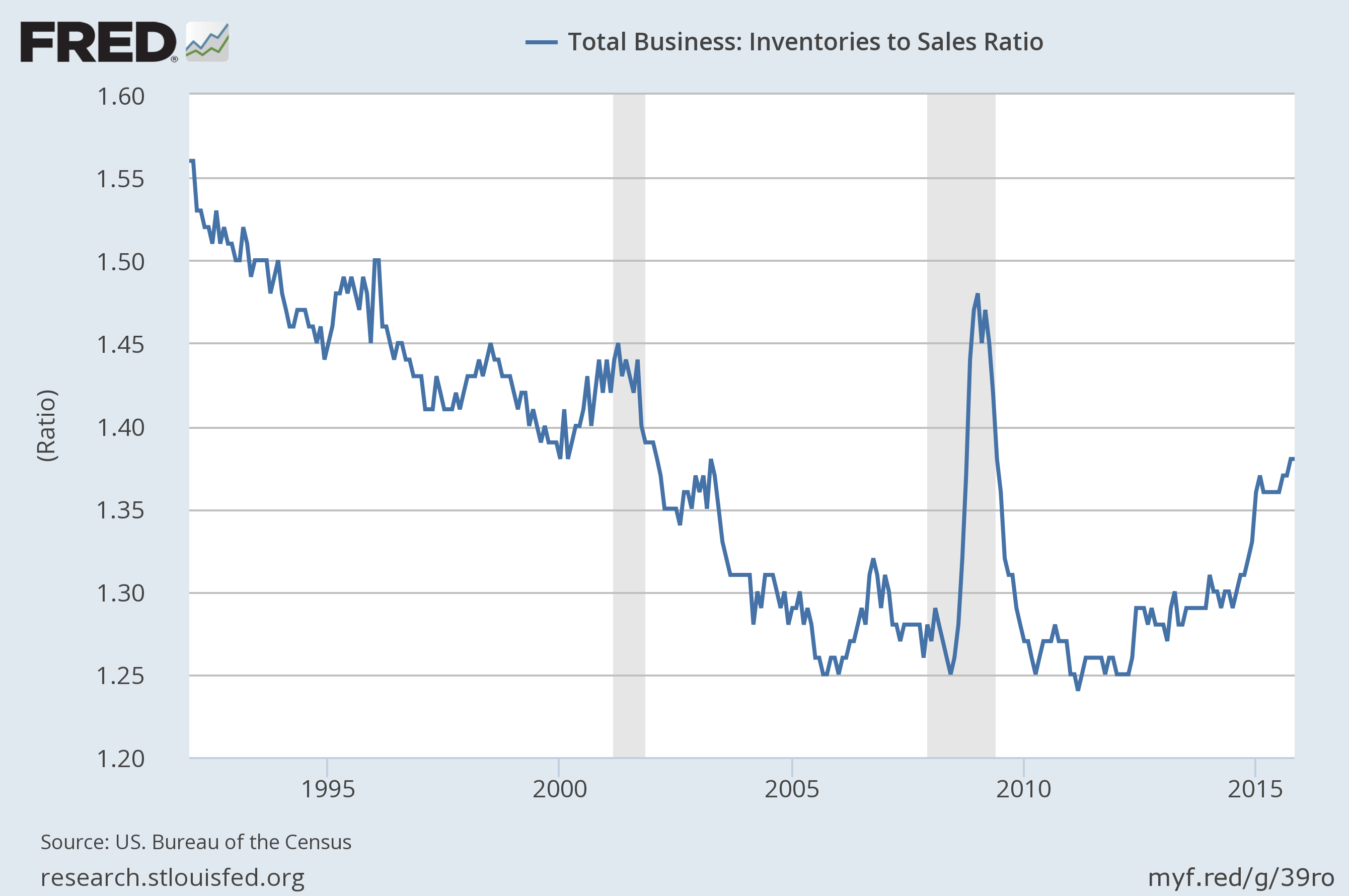 An increasing ratio is a negative sign because it shows companies may be having trouble keeping inventories down and/or sales have slowed. If they have too much of inventories, they may have to discount the products to clear their shelves, dragging on the earnings.
If you have any questions, feel free to contact me and/or leave comments below. Thank you.
Sneak peek of a future article that addresses one huge risk (lack of liquidity):
"With low liquidity in the bond market and increasing HFT transactions in it, the threat is real. Automated trades can trigger extreme price swings and the communication in these automated trades can quickly erode liquidity before you even know it, even though there is a very high volume. While liquidity in the U.S. bond market is high, it's not high enough to battle the power of the technological progress."