Believe it or not. I love the tweets from @realDonaldTrump. No matter what the content of the tweets are, I love the fact it moves the markets. Why would I love it? Because I love volatility.
In December, Trump tweeted out;
The United States must greatly strengthen and expand its nuclear capability until such time as the world comes to its senses regarding nukes

— Donald J. Trump (@realDonaldTrump) December 22, 2016
The tweet sent shares in small uranium miners soaring, including Uranium Resources (NASDAQ: URRE) and Uranium Energy Corp. (NYSE: UEC) by 31% and 13%, respectively.
Despite the real world complications, I just love the fact it agitates the markets.
More tweets;
The F-35 program and cost is out of control. Billions of dollars can and will be saved on military (and other) purchases after January 20th.

— Donald J. Trump (@realDonaldTrump) December 12, 2016
Based on the tremendous cost and cost overruns of the Lockheed Martin F-35, I have asked Boeing to price-out a comparable F-18 Super Hornet!

— Donald J. Trump (@realDonaldTrump) December 22, 2016
These tweets, as you can guess – sent the shares of Lockheed Martin (NYSE: LMT), which is the supplier of F-35 program, and Boeing (NYSE: BA) – down. From both tweets, Lockheed Martin lost billions in market cap. The rival Boeing was barely unchanged at the end, as it means more opportunities for them to gain more contracts.
However, Trump targeted Boeing in earlier December when he tweeted this;
Boeing is building a brand new 747 Air Force One for future presidents, but costs are out of control, more than $4 billion. Cancel order!

— Donald J. Trump (@realDonaldTrump) December 6, 2016
The tweet sent the stock price down by 1%, but ended the day flat.
Year-to-date……so far, Trump has already targeted General Motors (NYSE: GM) and Toyota Motor (NYSE: TM);
General Motors is sending Mexican made model of Chevy Cruze to U.S. car dealers-tax free across border. Make in U.S.A.or pay big border tax!

— Donald J. Trump (@realDonaldTrump) January 3, 2017
Toyota Motor said will build a new plant in Baja, Mexico, to build Corolla cars for U.S. NO WAY! Build plant in U.S. or pay big border tax.

— Donald J. Trump (@realDonaldTrump) January 5, 2017
Trump's tweets are just awesome. The volatility it brings allows me to make more money than the non-volatility. As I mentioned in my previous article, I recently opened RobinHood account, broker with $0 commissions. Using the broker in the future, I'm planning to buy some shares of the companies Trump negatively targets, especially if investors overreact.
Since it seems Trump has a strong hatred towards Mexico and the U.S. companies working there, here are the potential targets;
All of these companies are @realDonaldTrump's next targets pic.twitter.com/fxr2fxLTuf

— Khojinur Usmonov (@Khojinur30) January 5, 2017
It seems there are seconds delay until the stocks react to Trump's tweets. That's rare considering the era of algorithm trading which can react in milliseconds and less.
10 seconds elapsed between Donald Trump's tweet and the so-called drop in Boeing stock. Just FYI

— Eric Scott Hunsader (@nanexllc) December 6, 2016
Algos have yet to incorporate Trump's tweets into their codes. It's not that simple yet as it can be difficult to determine the sentiment from a tweet. Algos can easily get the direction of the stock wrong. We need more tweets to better analyze it.
But, will the future tweets move the markets or not? It all depends on how successful Trump is in implementing what he tweets. If Trump is unable to do so, he will just lose credibility.
Meanwhile, markets will react to the tweets and I plan to take advantage of them.
Trigger (originally a class project at Cornell Tech) just recently introduced "Trump Trigger" that will send you a notification every time Trump tweets about your investments. Not an algo, but notification that can be useful for amateur investors. Not my thing.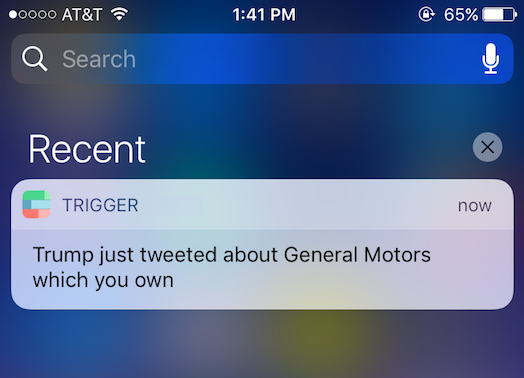 Almost 4 years ago, Associated Press (AP)'s twitter account tweeted out;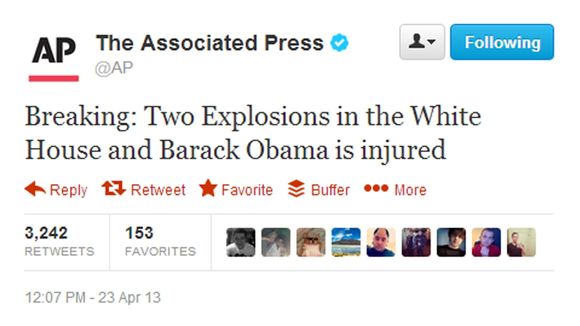 It was tweeted minutes after the account was hacked. Seconds after the tweet, S&P 500 lost $136 billion in market cap., before quickly rebounding.
What if Trump's account was hacked? The account can be exploited for financial gain, to cause geopolitical instability, or worse.
Whatever it is, I plan to take take advantage of them for financial gain.
Speaking of Twitter, follow me. I tweet about some of the articles I read, my trades and some sarcasm. Unfortunately, my tweets do not move the markets……for now.