Note: Also posted on Seeking Alpha. It can be found here.
April FOMC Meeting Minutes: "It likely would be appropriate for the Committee to increase the target range for the federal funds rate in June."
Last Friday: 38K jobs created in May, the fewest since September 2010. Way way lower than 123K jobs gained (that number is revised….hold your breath) in April. Way way lower than 159K gain expected.
---
Labor market was seriously injured in May. The United States added only 38,000 new jobs, the fewest in almost six years. Things get worse. Prior two months reading were revised lower by 59,000. There were 123,000 jobs added in April down from initial estimate of 160,000. Nonfarm payroll for March was revised to 186,000 from 208,000.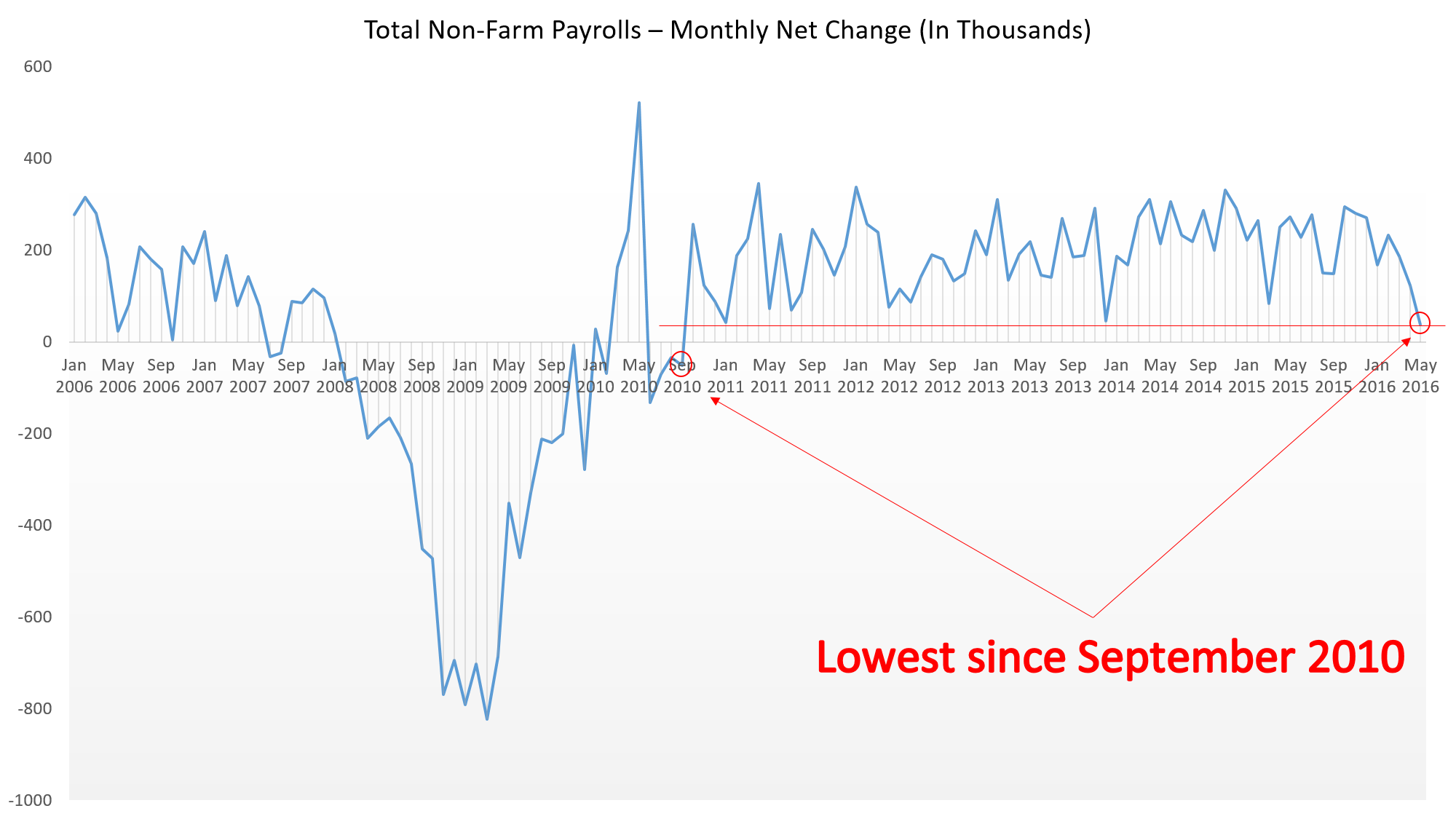 Yet, unemployment rate surprisingly dropped by 0.3% to 4.7%, the lowest since November 2007. Hold on a second. How can unemployment rate drop so much if employment decreased so much? More people left the labor force, as confidence in the labor market is cooling down.
The labor force participation rate decreased by 0.2% to 62.6%, near 38-year low, unwinding about two-thirds of the rise between last September and March. A record 94,708,000 Americans were not in the labor force in May, 664,000 more than in April.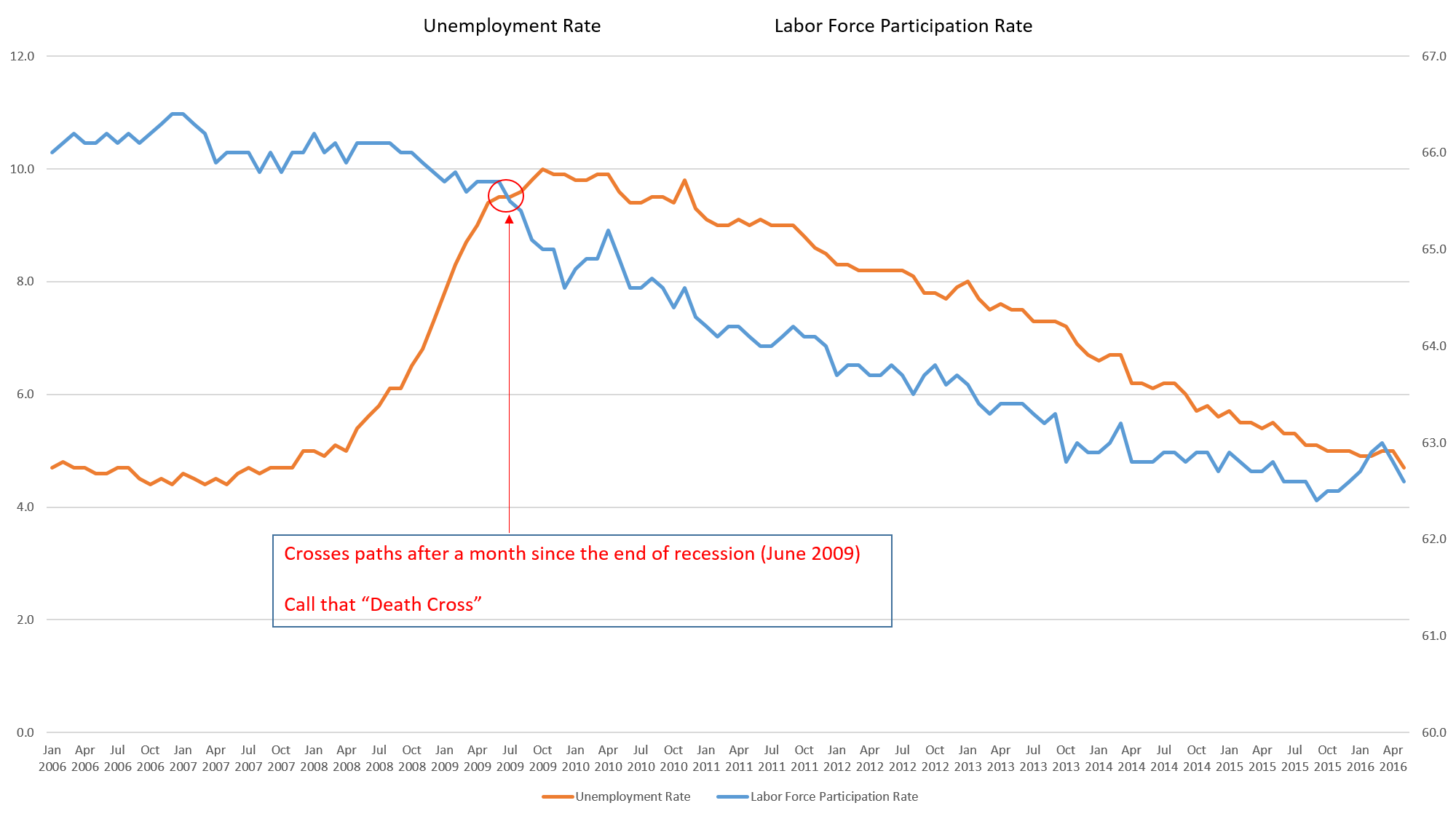 The report has evaporated the chance of a rate-hike this month from the Federal Reserve. Before the report, the federal funds futures were pricing in 55% chance of a rate-hike. Now, that is less than 5%.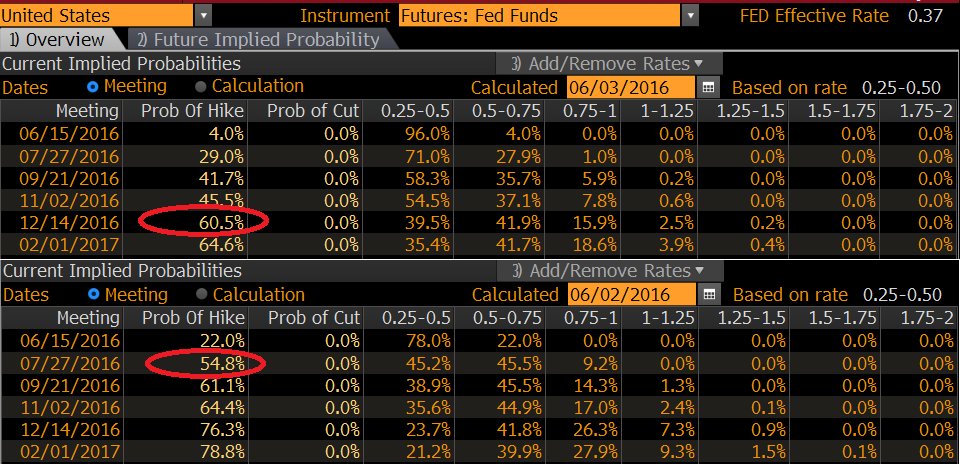 The next probable rate-hike prediction is December. As I mentioned in early January, the Federal Reserve will lower back rates this year. Let's dig deep into the jobs report.
About 35,000 job losses can be connected to a 45-day Verizon strike, which began on April 13. The workers returned to work on Wednesday, June 1st, after unions reached a deal with the telecommunications company on compensation and job security.
Since they were not working and was on a strike, they were counted as unemployed. Without the "Verizon strike effect," May nonfarm payroll would have shown 73,000 gain, still way below from the prior month and expectations.
Information services employment, which Verizon workers would fall under, declined by 34,000 jobs in May, the first decline since November 2015. The Bureau of Labor Statistics (BLS) even highlighted the impact of the strike, "employment in information decreased due to a strike." "About 35,000 workers in the telecommunications industry were on strike and not on company payrolls during the survey reference period," said BLS in the report.
This is not the first time Verizon workers went on a strike. In both 2000 and 2011, information services employment dropped as Verizon workers demanded more benefits. The month after the strikes, the sector's employment numbers rebounded.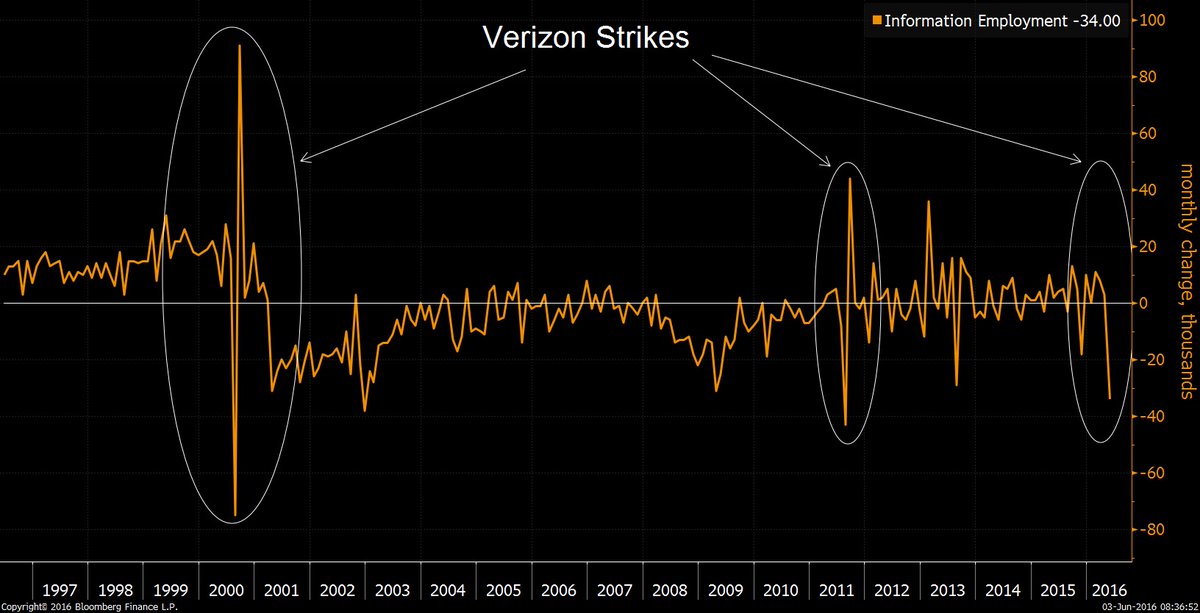 These 35,000 Verizon workers will be added back to the June's nonfarm payrolls.
The agreement between the unions and the company gives Verizon workers 10.9% increase in pay over four years (contract expired on August 3, 2019), as well as other benefits. That pay raise is way more than stagnant wages across the country.
Average hourly earnings rose by 5 cents (0.2%) to $25.59, following 9 cents (0.4%) increase in April. On a year-over-year (Y/Y) basis, the wage growth was flat for two months, growing by 2.5%.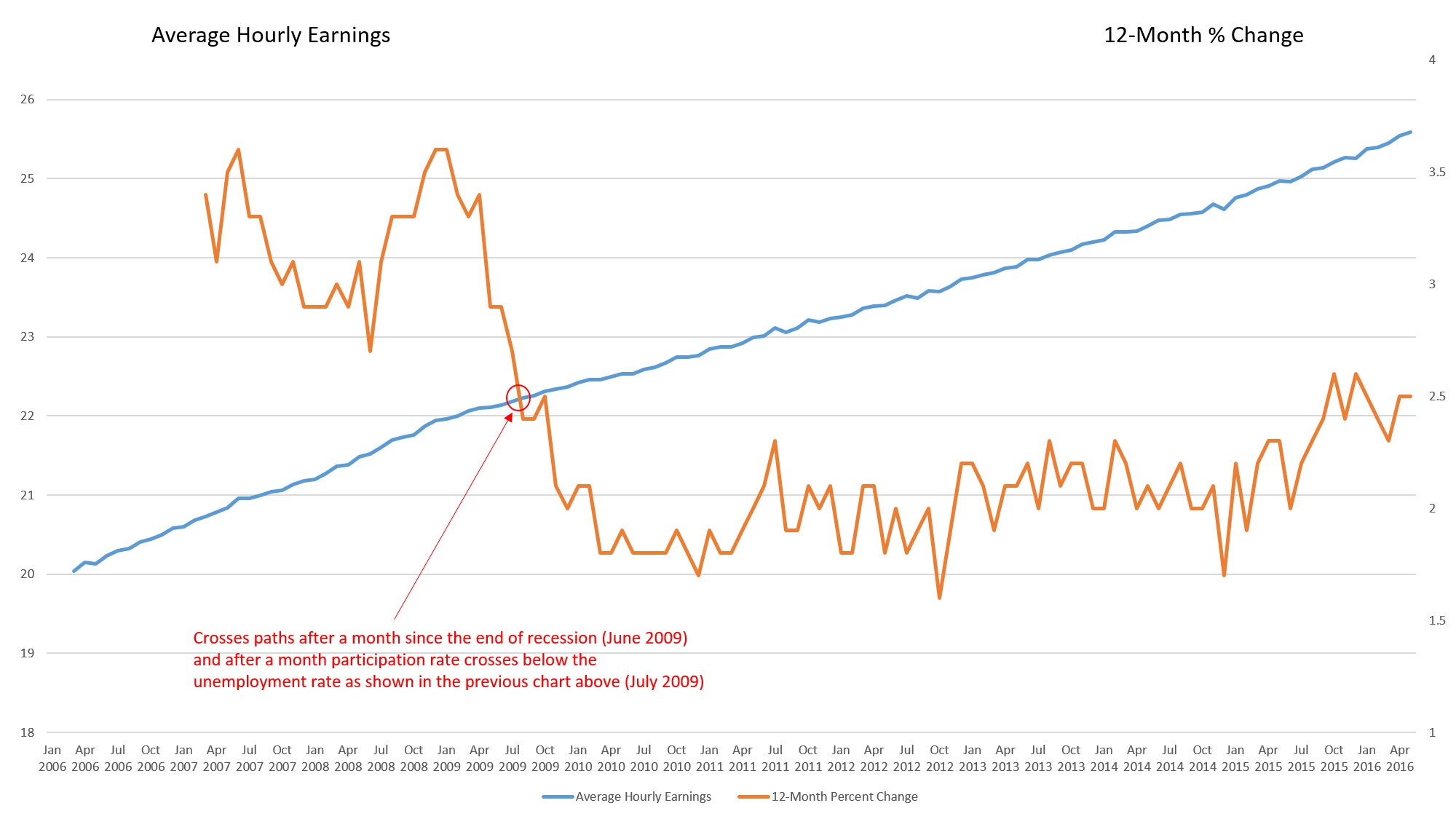 Unemployment at 4.6% is within the range the Fed considers "full employment." The average unemployment rate from 1948 (oldest data I could find) to last month is 5.8%. This leads me to believe the unemployment rate is below its natural rate, 5.8%. Then, why is not inflation higher?
According to Phillips curve, inflation should be higher. Inflation has been hovering around 0% and 1% since the end of 2014. So, why is the Phillips curve not really working?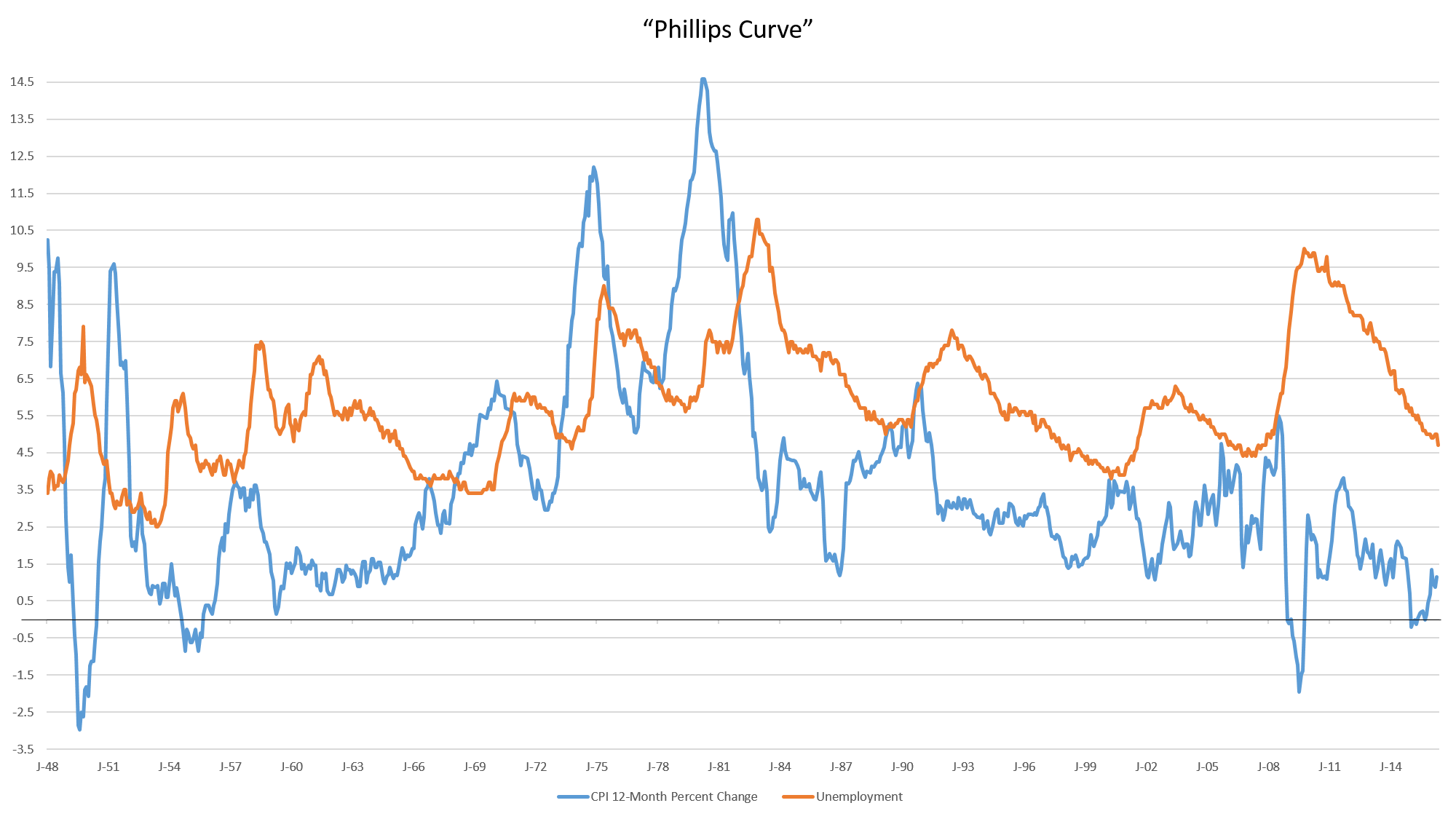 If there's a recession later this year or next year (as some people are forecasting) and the inflation rate is the same as now, we will have a deflationary problem. This time, the deflationary problem will be much worse than they were before. At this time, I am not forecasting anything on recession. If there is one, it will be very interesting how the central banks react to the deflationary pressures, considering the fact that they are running out of ammunition.
I believe Phillips curve is not really working today due to unemployment engineering (like companies do with non-GAAP) and globalization. Workers should not be counted as unemployed because they didn't look for work in the past four weeks. Instead, it should be three months or more. It gives them more time to think and flush out their savings, if they even have one. Such discouraged workers should be included in the calculation process of unemployment.
Mostly important, globalization has played a big part in the crisis of Phillips curve. Since the financial crisis and light-speed innovation of technology, many companies found ways and more ways to reduce the costs. Since they are battling for customers, they are reducing their prices, keeping inflation low. The trade agreement, Trans-Pacific Partnership (TPP), will keep or even lower inflation further.
The countries included in TPP (China is excluded) account for 36.2% of global economic output and 25.6% for world trade. By eliminating taxes on exports, companies with intense competition, will reduce their prices further. For example, TPP eliminates import taxes up to 70% on U.S. automotive product exports to TPP countries.
The prices of drugs, on the hand other, will continue to increase. TPP increases the protection of drug patents and copyrights, reducing the availability of cheap generics.
Back to the jobs report. Private sector added only 25,000 jobs, the fewest since February 2010. April's private sector gain was revised down to 130,000 from 171,000. March's gain was slightly revised down to 167,000 from 184,000. Constructions payrolls dropped by 15,000, the most since December 2013 and the second consecutive month of decline.
The goods producing sector, which includes mining, manufacturing, and construction, shed 36,000 jobs, the most since February 2010. Mining employment continued its downward trend as plunging oil prices penetrated the operations of energy companies, shedding 10,000 jobs in May. Mining employment have dropped by 207,000 since peaking in September 2014, with three-quarters of the losses in support activities.
Temporary-help service jobs shrank by 21,000 and are down by 64,000 so far this year.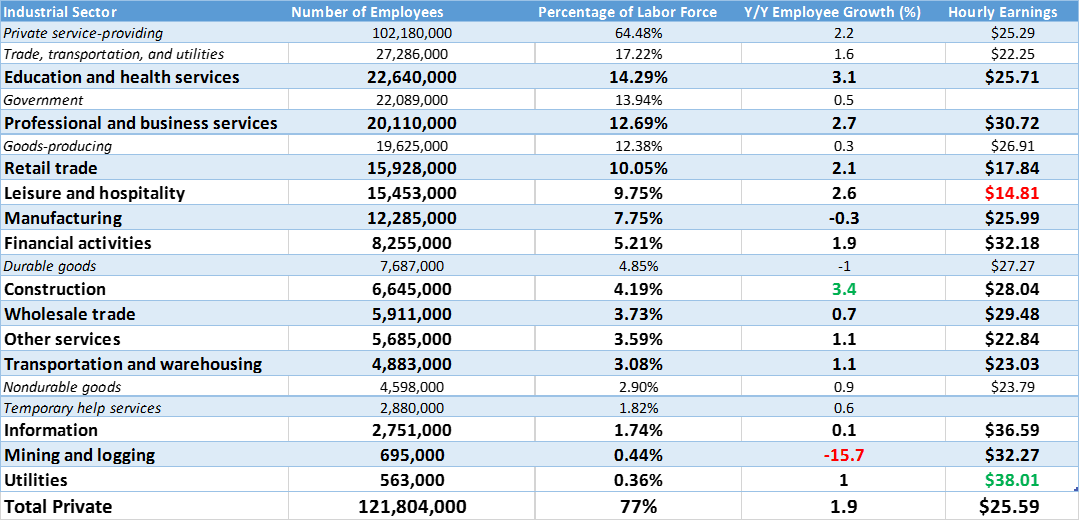 Retail employment rose 11,400 (Shopping for summer?) after losing jobs in April for the first time since December 2014. Health care added the most jobs, with 45,700. Over the year, health care jobs jumped by 487,000 (Thanks, Obamacare?).
Diffusion index – which measures the breadth of employment across the private sector – collapsed to 51.3%, the lowest since February 2010. A reading of 50 represents that as many industries gained employment as lost employment. If it's 0, employment of all industries decreased. If it's 100, employment of all industries increased. That is down from 53.8% in April and 56.3% in March and from the recent peak of 71.2% in November 2014.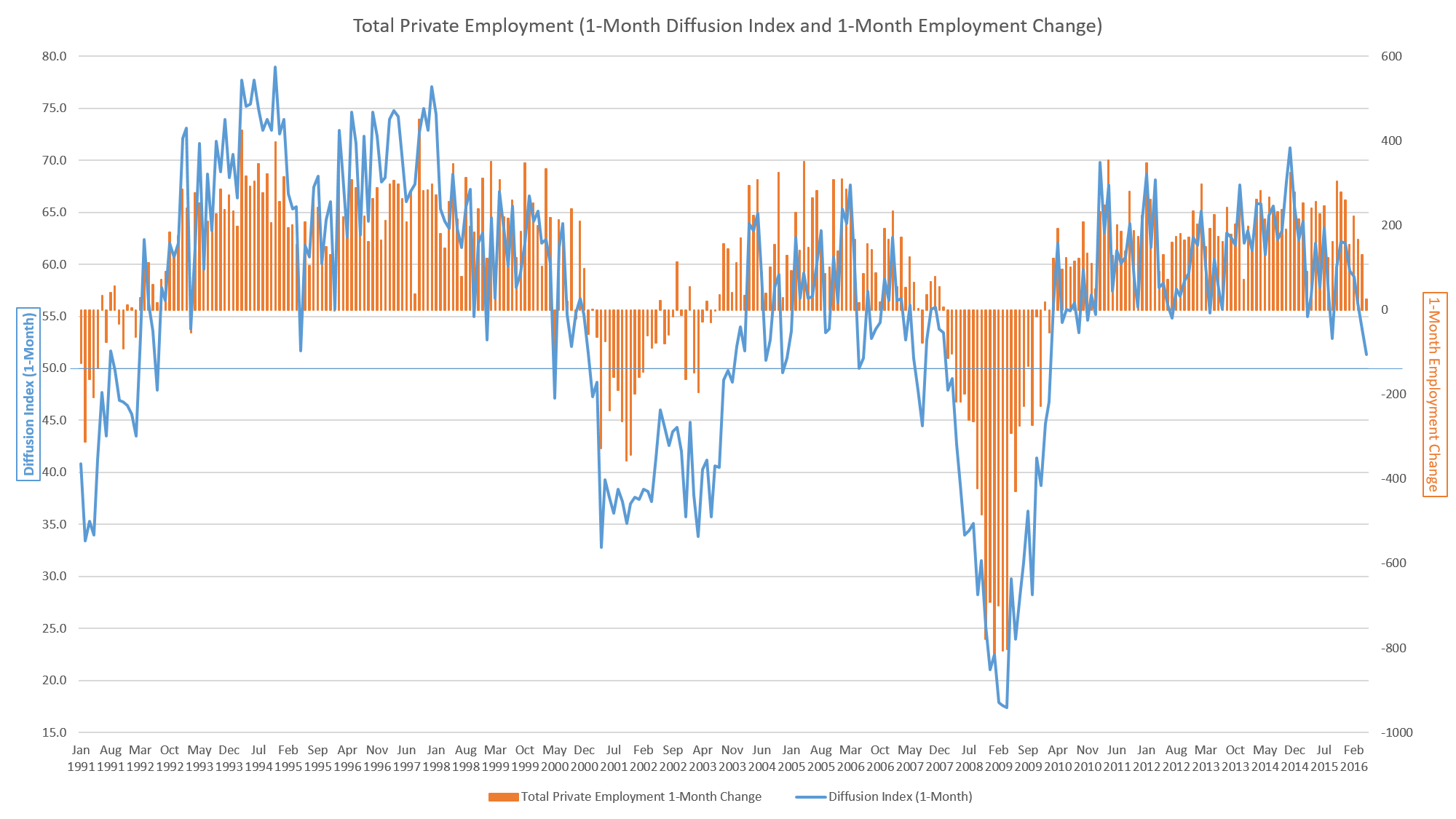 Further, the number of people employed for part time for economic reasons (involuntary part-time workers), climbed by 468,000 to 6.4 million, the highest since August and the largest jump since September 2012. This level, in addition to other numbers above, suggests slack still in the labor market. It is still high by historical standards.
These workers are included in the alternative measures of underutilization (U-6) that remained unchanged at 9.7% in May.
There are nearly 1.9 million workers who have been unemployed for more than 26 weeks, down from 2.1 million in April. It's the lowest since July 2008, but is still high by historical standards.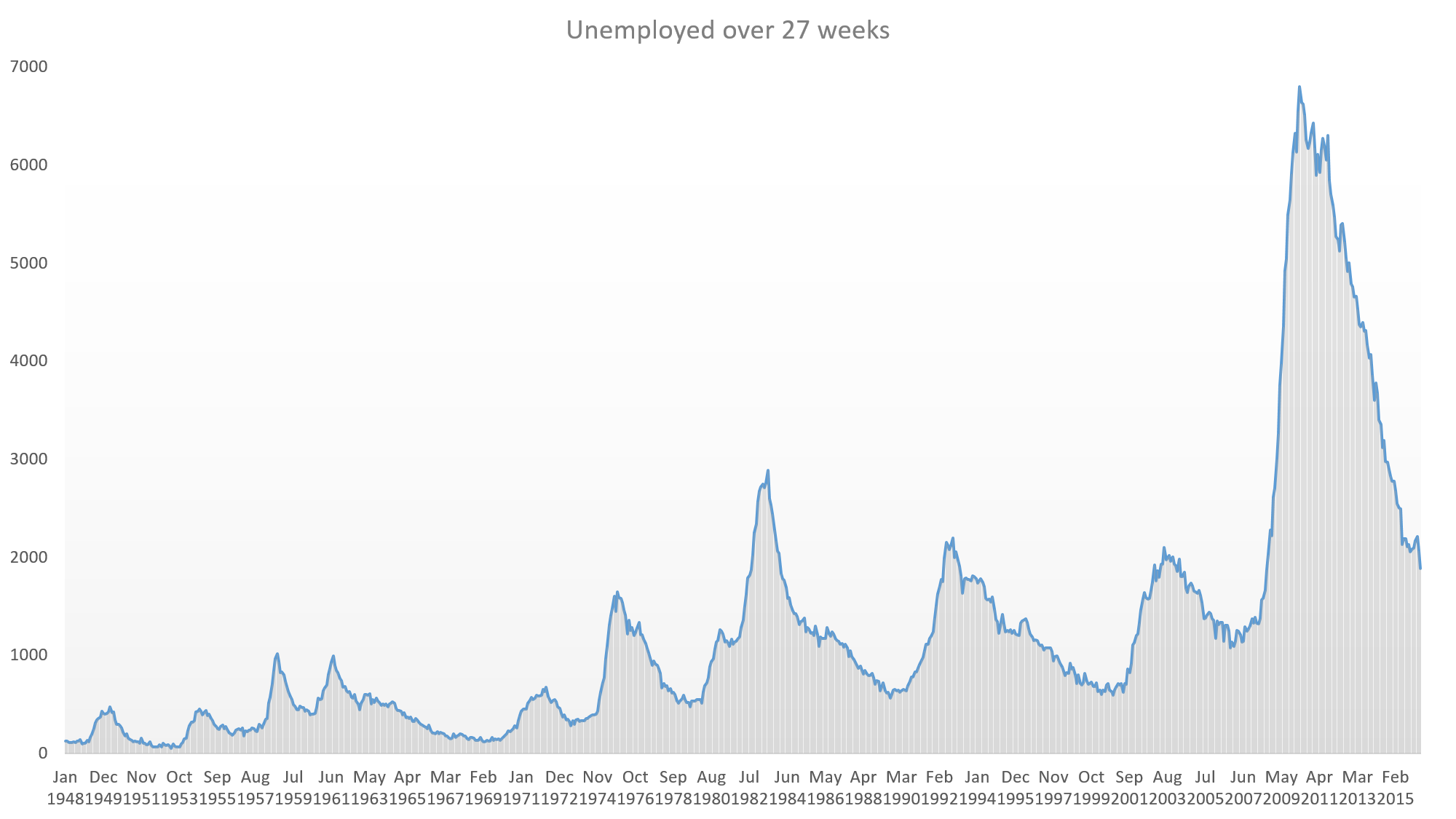 Three-month average of total nonfarm is down to 116,000 from 181,000 in April. It's the lowest since July 2012 and is down from 203,000 three-month average during he same period last year. The three-month average of total private is nosedived to 107,000 from 173,000 in April.
The Federal Open Market Committee will meet on June 14-15. They will keep rates on hold, unless they don't listen to the market like in December. Again, I continue to believe the Fed will lower back rates this year.
The labor market remains in hospital with serious injuries. 
---
Reactions to the jobs report: