Last Thursday (July 2, 2015), non-farm payrolls report for June for disappointing. 223,000 jobs were added in June, vs expectations of 231,000, compared with an average monthly gain of 250,000 over the last 12 months. Although payrolls grew slightly, the unemployment rate ticked lower to 5.3% from 5.5%. While this may sound to be a good thing, it is not.
Unemployment rate fell due largely to a sharp decline in labor force participation, which fell by 0.3% point to 62.6%, the lowest level since October 1977. Decline in labor force participation shows more people were discouraged by the poor employment prospects that he/she is not actively seeking employments. Therefore, they are not reflected in the unemployment rate. Bottom line: they lost confidence in the jobs markets.
Revisions to the previous months' job totals has been negative. April fell from 221,000 to 187,000 (-34,000) and May fell from 280,000 to 254,000 (-26,000), bringing losses of 60,000.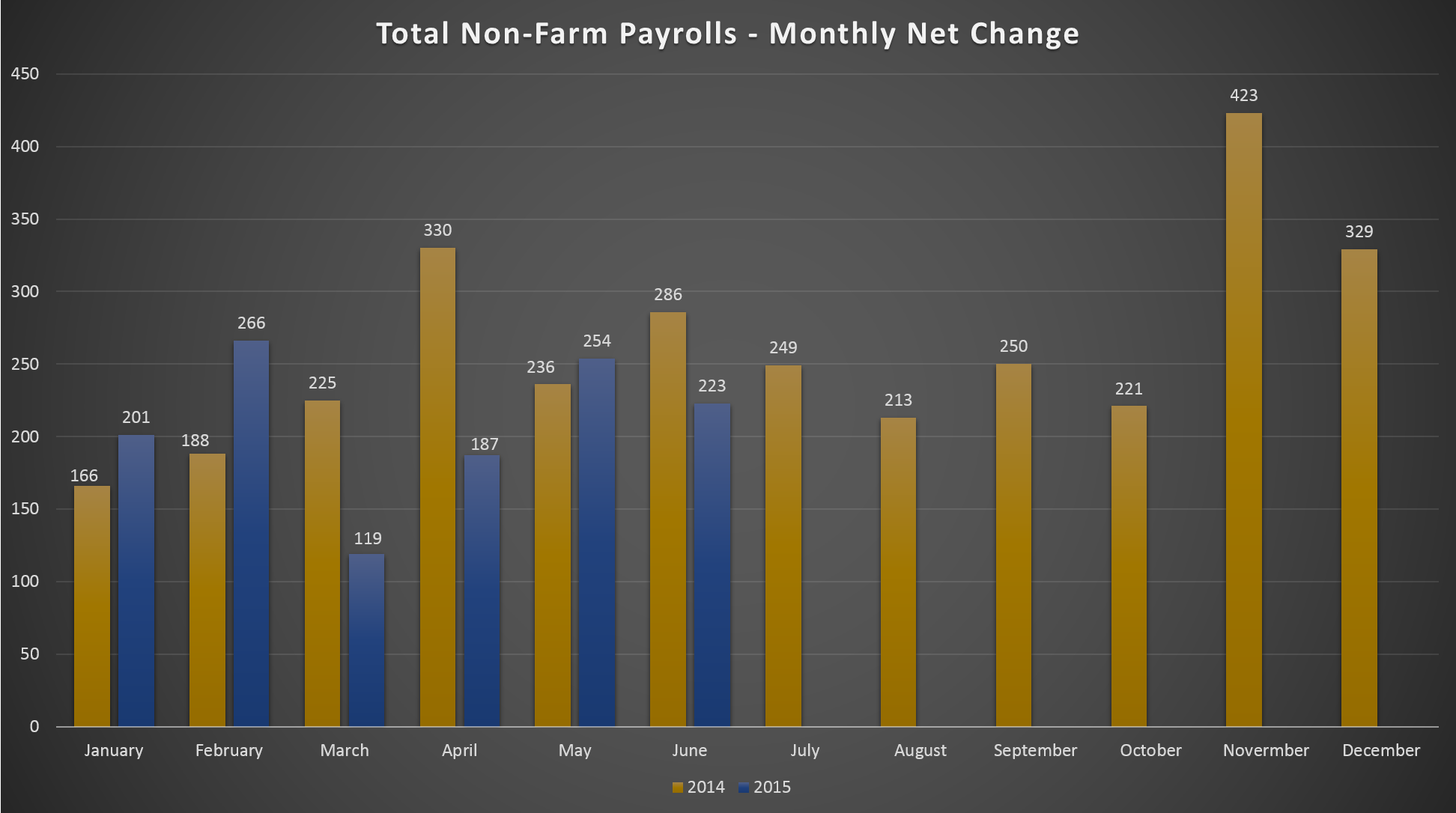 Job gains/loss:
Professional/Business services: +64,000. I believe it was largely due to college students who recently graduated or got a job while in school.
Health care: +40,000. ObamaCare continues to boost earnings for health care industry. Recently, health care stocks have been hitting all-time highs.
Retail: +33,000. Well it is summer, isn't? It's no wonder more jobs were added in retail.
Restaurants/Bars/etc: +30,000. One word, Summer.
Mining: -4,000. Oil decline has been hitting energy industry hard. Total decline in the industry now stands at 70,000.
While employment numbers are important to the Fed to justify the time to begin normalizing policy, I believe wage growth and Consumer Price Index (CPI) are more important. July rate-hike is off the table largely because wages remained flat. Average hourly earnings in the private sector stood at $24.95, unchanged from May and up 2% from a year earlier.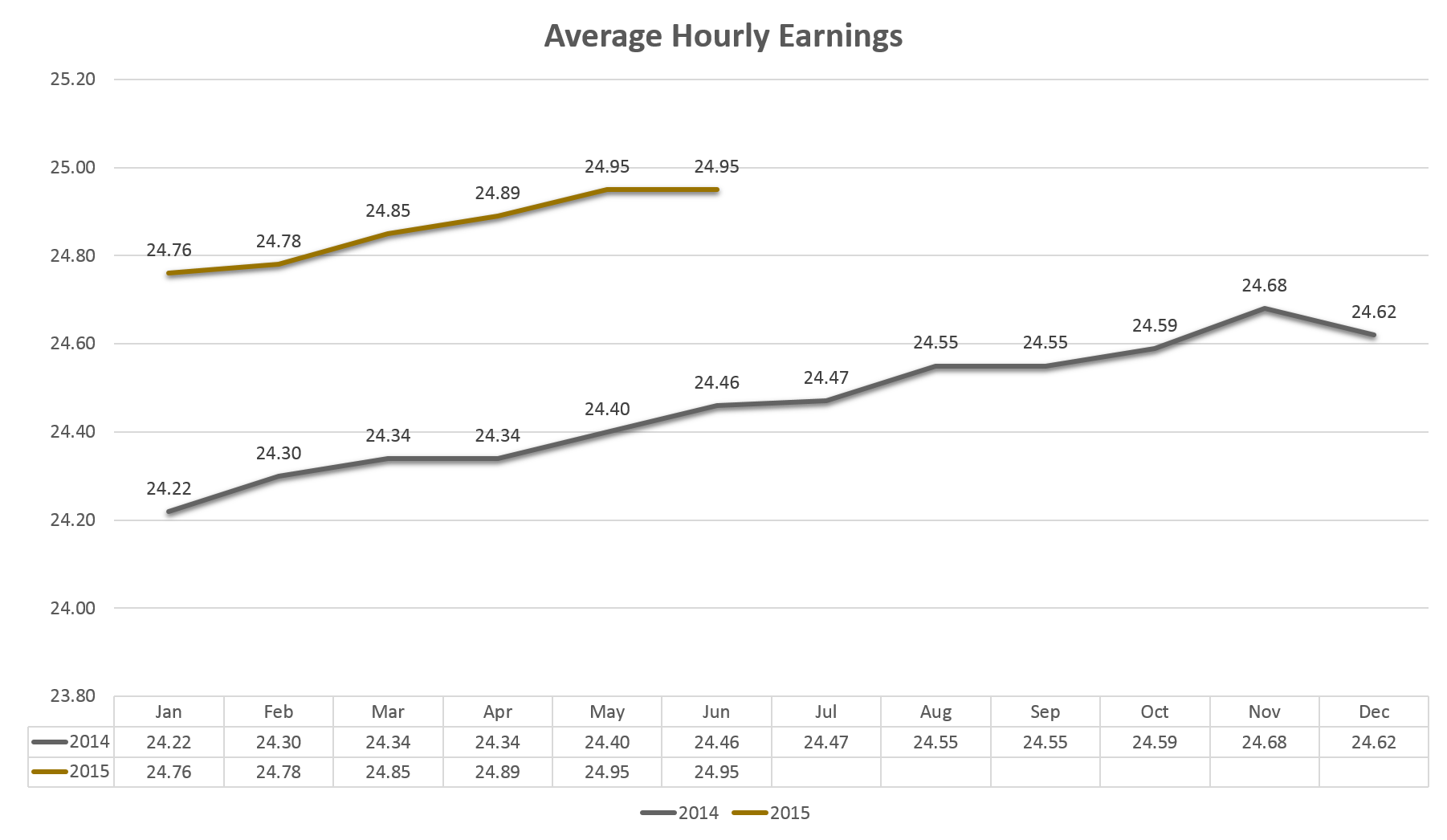 On July 17, CPI report for June will be released at 8:30 AM EST. It will be very important to watch for it. Any spending reports such as Retail Sales will also be important to watch out for because consumer spending makes up 70% of all economic activity. Retail sales account for one-third of it.
I strongly believe September rate liftoff is possible. If future CPI, average hourly earnings, and employment fall in any way, chance of liftoff in September will be reduced.
Following the release of the report on Thursday, US markets were mixed while US Dollar was down. US markers were closed due to 4th of July holiday. The United States is 239 years old.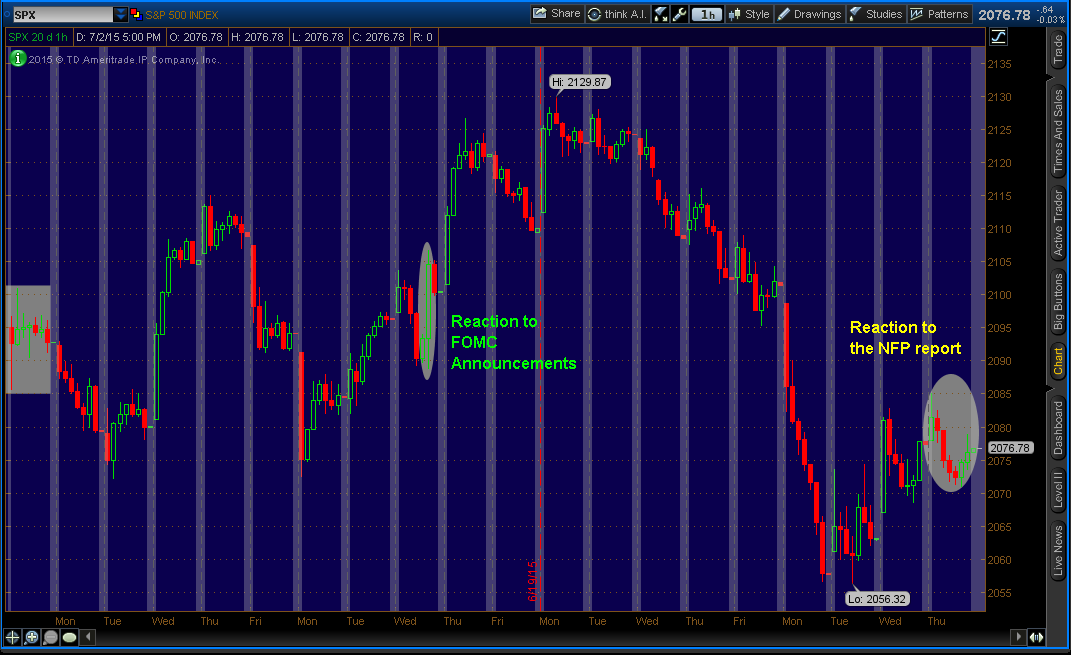 Thank you for reading. If you have any questions, feel free to contact me. You can leave a comment and contact me on this website, google plus, twitter, and linkedin. Thank you.