Yes, I know markets have been rallying and S&P 500 has been hitting all-time highs. But, remember Brexit?
In case you forgot, the people of United Kingdom voted to leave European Union on June 23rd. Markets then destroyed more than $3 trillion in paper wealth in the next 2 days (Friday and Monday).
After that, market just shook it off. As Taylor Swift says, "Shake It Off." "It's gonna be alright."
The actual businesses and people in the UK just cannot shake, shake, shake, shake, shake,….it off.
The UK job market went into "freefall" as the number of people appointed to full-time roles plunged for a second successive month in July, according to a survey. An index of permanent positions dropped to 45.4 from 49.3 the previous month, the lowest level since May 2009. A number below 50 indicates a decline in placements (contraction). Employers in the survey cited Brexit-related uncertainty.
The same uncertainty that scared away some investors and sit on cash, including me. 91% of investors made money in July as US markets kept hitting record highs, according to Openfolio, an app that allows you to connect and compare your portfolio to 60,000 other investors. Average cash holdings of these investors grew 25% over the past three months leading up to July.
75% of investors lost money in June as Brexit uncertainly weighted in. The portfolio of the majority of investors are tracked with S&P 500. The problem here can be described by Ron Chernow,
As a bull market continues, almost anything you buy goes up. It makes you feel that investing in stocks is a very easy and safe and that you're a financial genius.
93% of investors lost money in January as the energy prices plunged and uncertainty in China scared investors.
Here's another quote by Robert Kiyosaki (Rich Dad),
As a bull market turns into a bear market, the new pros turn into optimists, hoping and praying the bear market will become a bull and save them. But as the market remains bearish, the optimists become pessimists, quit the profession, and return to their day jobs. This is when the real professional investors re-enter the market.
I'm naturally contrarian like Bill Ackman. I love going against the crowd. I love Bill Ackman. When I met him, I had no problem keeping my cool after learning my lesson from the Ben Bernanke experience.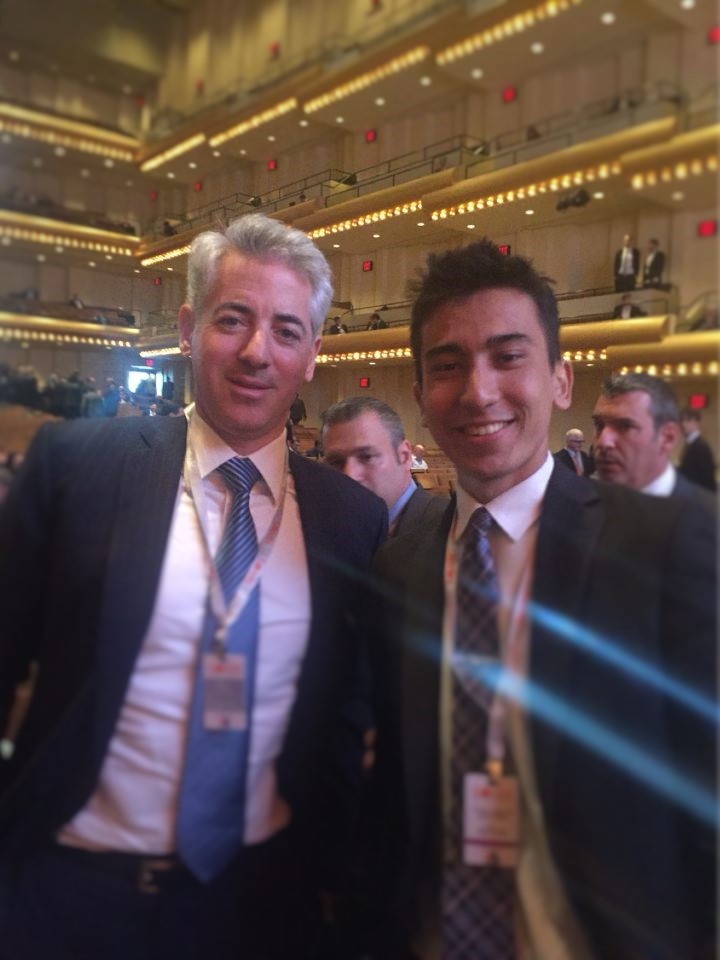 Being contrarian has made me money. It has also got me into "value trap" like buying $TWTR around $34.
The UK labor market survey was released a day after Bank of England cut rates and expanded quantitative easing.
On Thursday (August 4th), Bank of England (BoE) cut rates by 25bps (0.25%) to 0.25%, the lowest since the central bank was founded in 1694 (322 years) and the first cut since March 2009.

The central bank signaled further cut to the interest rate if the economy deteriorates further, "If the incoming data prove broadly consistent with the August Inflation Report forecast, a majority of members expect to support a further cut in Bank Rate to its effective lower bound at one of the MPC's forthcoming meetings during the course of the year." (I'll address the recent economic reports and BoE's forecasts later in this article)
During the press conference, Mark Carney (The Governor of BoE), stated he is not a fan of negative interest rates. He clearly stated that MPC (Monetary Policy Committee) is very clear lower bound is above zero. Options other than NIRP (Negative Interest Rate Policy) are available, "we have other options to provide stimulus if more stimulus were needed."
Carney told banks they have "no excuse" not to pass on the rate cut in full to customers. In other words, he's telling them not to mess with him.
"With businesses and households, anyone watching, if you have a viable business idea, if you qualify for a mortgage, you should be able to get access to credit."
With 6-3 vote, they will provide an extra 60 billion pounds ($78 billion) of newly created money by buying government bonds over six months, extending the existing quantitative easing (QE) to 435 billion ($569 billion).
To cushion the blow to banks' profitability, BoE will provide up to 100 billion pounds ($130 billion) of loans to banks close the base rate of 0.25% under the Term Funding Scheme (TFS). The scheme will charge a penalty rate if banks do not lend.

"The TFS is a monetary policy instrument. It reinforces the transmission of Bank Rate cuts and reduces the effective lower bound toward zero, it charges a penalty rate if banks reduce net lending, it covers all types of lending, and it is funded by central bank reserves." (Page 6)

With 8-1 vote, BoE will also buy as much as 10 billion pounds ($13 billion) of corporate bonds in the next 18 months, starting in September. For that, BoE is targeting non-financial investment-grade corporate bonds, issued by "firms making a material contribution to the UK economy" (Page 3)
I did not expect that much of stimulus.
I expect .25% rate-cut by Bank of England. But, not more QE. There's a little chance I think QE will be less than £20bn. $GBPUSD #BoE

— Khojinur Usmonov (@Khojinur30) August 4, 2016
While I was wrong on this one, I was right in July when markets expected rate-cut and expansion of QE.
BoE to hold off tomorrow. Will "wait and see" until August/September to decide due to UK politics and article 50 not triggered. $GBPUSD

— Khojinur Usmonov (@Khojinur30) July 14, 2016
They probably want a stronger pound #GBP before cutting and more QE so inflation risk is reduced, even little. $GBPUSD

— Khojinur Usmonov (@Khojinur30) July 14, 2016
the sharp fall in the exchange rate will, in the short run, put upward pressure on inflation. $GBPUSD $BoE $EURGBP https://t.co/AglY3nPWhh

— Khojinur Usmonov (@Khojinur30) July 14, 2016
Note: I'm always active on Twitter. Follow me, @Khojinur30.
The stimulus comes as recent economic data has been weak. Confidence tumbled. Manufacturing, construction activity, and service-sector all shrank sharply.
Consumer confidence dropped 11 points to -12 in July, the sharpest month-to-month drop (M/M) since March 1990.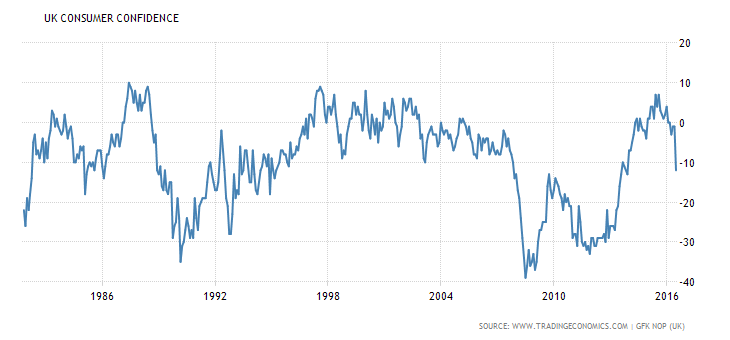 Activity among UK manufacturers contracted at its fastest pace at the start of third quarter. UK manufacturing PMI (Purchasing Mangers' Index) fell to 48.2 in July, down from 52.4 in June, the lowest levels since February 2013.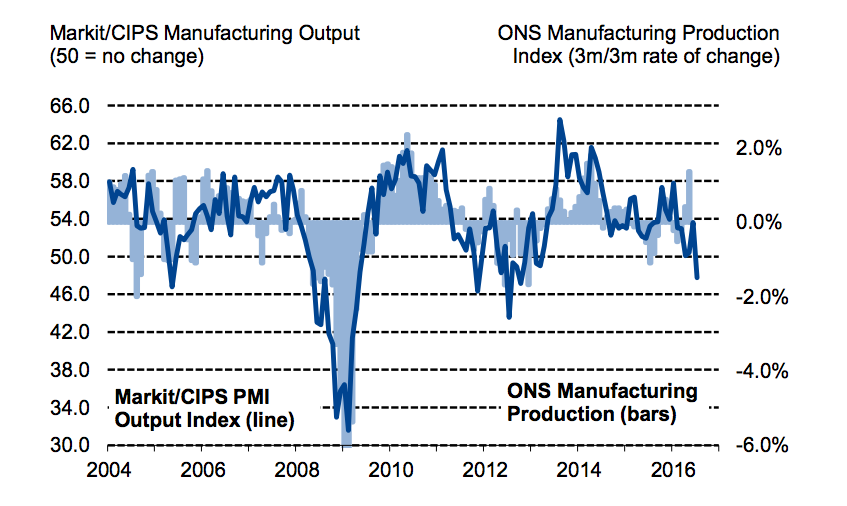 Manufacturing sector accounts for 11% of the UK economy.
UK manufacturing stats:
What is also interesting in the PMI report is the input price. Input price inflation rose to a five-year high in July, "reflecting a sterling-induced rise import costs." Some part of the increase in costs "was passed through to clients."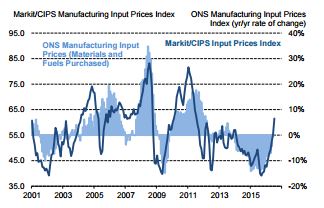 UK construction industry, accounting for 6.5% (Parliament.uk – PDF download) of the economic output, suffered its sharpest downturn since June 2009 as the sector came under pressure from the uncertainty. UK construction PMI inched down 0.1 to 45.9 last month.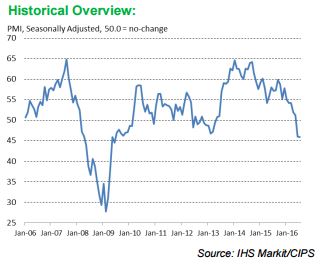 Clients of the construction firms had adopted "wait-and-see" approach to projects rather than curtailing and canceling the projects.  The same "wait-and-see" that has caused investors like me to sit on cash (Cash on sidelines).
"Insufficient new work to replace completed projects resulted in a decline in employment numbers for the first time since May 2013" the PMI report stated. The construction industry accounts for 2.1 million jobs, 6.62% of the working population. The industry contributes to 6.5% of GVA.
And services too. UK services PMI plunged to 47.4 in July from 52.3 in June, the first contraction since December 2012 and the fastest rate of decline since March 2009 and the steepest M/M decline (-4.9) since PMIs began in July 1996.
The sector accounts for 78.4% of the UK economic output.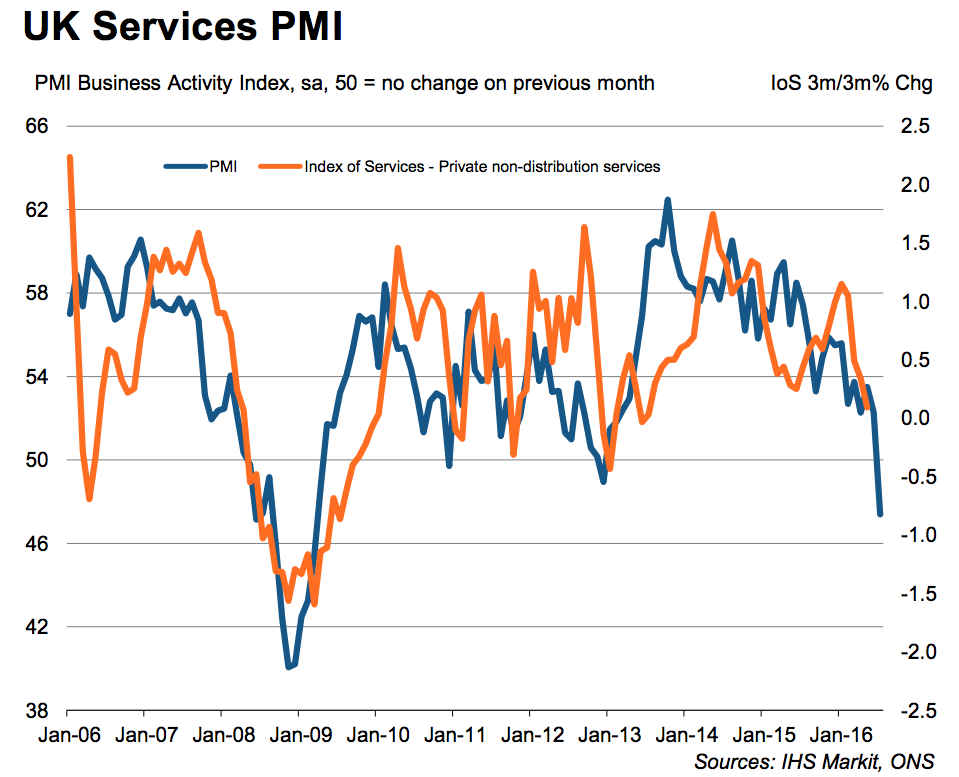 Not surprisingly, the sentiment of businesses dropped to the lowest since February 2009.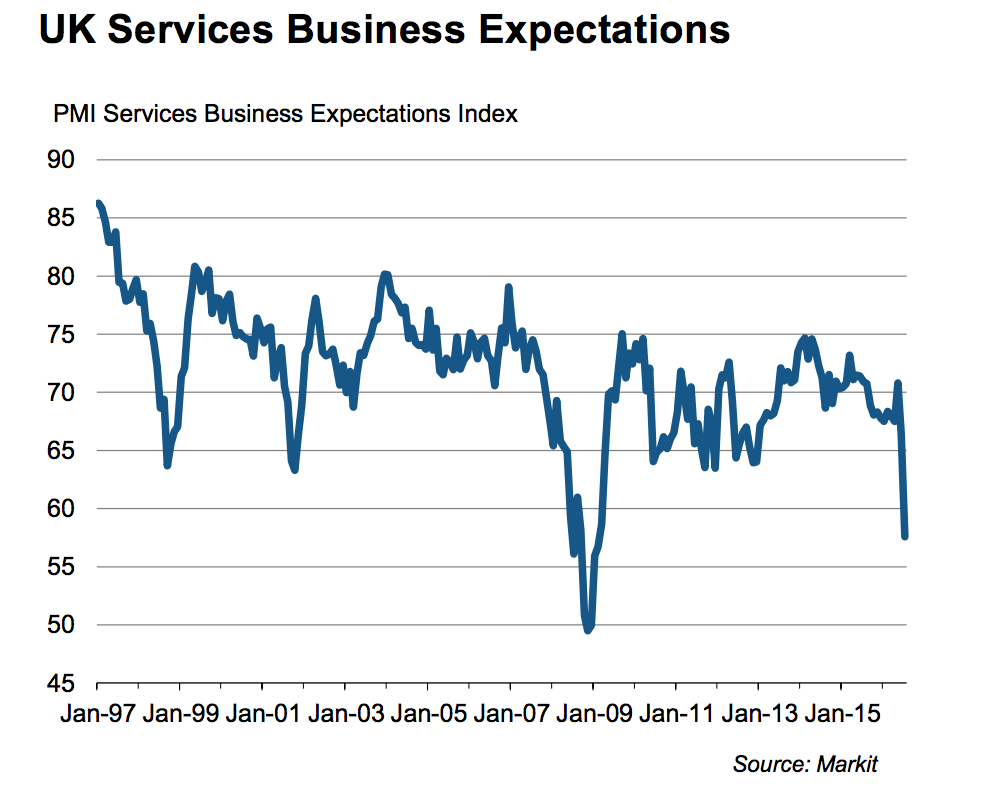 Bank of England slashed its growth and increased its inflation forecasts. The central bank slashed its growth forecast for 2017 to 0.8% from initial estimate of 2.3%, making it the biggest downgrade in growth from one inflation report to the next. They now expect inflation to hit 1.9% in 2017, from previous estimate of 1.5%.
For 2018, the economy is expected to grow at 1.8% from previous estimate of 2.3%, and CPI is expected to hit 2.4% from previous estimate of 2.1.
Unemployment is expected to reach 5.4% next year from initial estimate of 4.9%, that is more than 250,000 people losing their job….even after the stimulus.
The bank's outlook also includes lower income and housing prices to decline a "little" over the next year.
UK house prices fell 1% in July, according to a survey by Halifax, Britain's biggest mortgage lender. The reports for the next few months will sure be interesting.
Confidence will continue to fall in the coming months as uncertainty will continue to exist and businesses will be extremely cautious with regard to spending, investment and hiring decisions, and people will be cautious with regard to spending.
All these survey conducted shortly after Brexit reflects an initial reaction. What matters now, especially after the new wave of stimulus, is the level of uncertainty and the magnitude of contractions. The three PMIs – manufacturing, construction, and services – accounting for almost 96% of the economic output, does not cover the whole economy as the retail, government and energy sectors (Oh energy), are excluded. However, it is clear the UK economy is slowing and is likely to slow in the coming quarters. Until clouds stop blocking the sun from shining, we won't have a clear picture of the economy.
Will there be a recession or not? I'm not calling for any recession at the time. I will get a better idea of where the UK economy is heading as we get more data.
Tomorrow (Tuesday):
Manufacturing production.
In two weeks:
Consumer Price Index (CPI) – With data reflected in the PMIs and the amount of stimulus announced by BoE, inflation overshoot is possible. This report in two weeks will only reflect July. We should get better of where inflation is going in September and October.
Jobs report
Retail Sales
In four weeks:
Another manufacturing and construction PMIs. The services PMI comes the week later.
I should make a call on whatever the will be recession after the data and some by mid-September.
Without fiscal stimulus, monetary stimulus alone cannot offset most of the Brexit ills. Philip Hammond, the chancellor, signaled loosening of fiscal policy in October. By then, it just might be too late.
Extra: Bad Karma
Since Brexit (voted for by pensioners) UK 10y yield has plunged from 1.40% to record low 0.65%…decimating pensions pic.twitter.com/CtVUoufWuF

— Jamie McGeever (@ReutersJamie) August 4, 2016