Last Wednesday (October 7, 2015), I had a chance to meet Ben Bernanke, former chairman of the Federal Reserve and the most powerful man in the world (well, was).
Not that I got a handshake, but got to ask a question.
So how did I get to meet him? It was part of WSJ Pro Central Banking events.
Recently, Wall Street Journal introduced a subscription service, "WSJ Pro". It debuted with WSJ Pro Central Banking. Its parent company, Dow Jones, describes it as a "premium suite of industry and subject-specific content services, combining news, data, and events in a single membership platform." The key word is "events". "Events" is what I love about the subscription. "Events" in other words mean, meeting high-profile people and networking with people in the financial industry.
I had a free access for a while, but now that's gone. During my trial, I registered for two events, "Breakfast Interview Series: William Dudley" and "Breakfast Interview Series: Ben Bernanke". I was lucky enough to be chosen to go to both of them.
The event with William Dudley, President of the Federal Reserve Bank of New York, took place on September 28. Did not get a chance to ask a question. Nevertheless, great event. Full video of the interview can be found here.
The event with Ben Bernanke took place on October 7. I was so excited for this particular event. Well, who doesn't want to meet Ben Bernanke? I woke up on 4:30 in the morning and left my house at 6:45 AM. I got to the location of the event by about 7:50. When I checked in, I got an autographed copy of Mr. Bernanke's new book, "The Courage to Act." Signed, Sealed, Delivered.
It wasn't until 8:30 AM when Mr. Bernanke entered the room, getting me and others excited. Along with him, there was WSJ's Chief Economics Correspondent, Jon Hilsenrath, who also interviewed William Dudley the week before.
During the Q&A session, I got a chance to ask a question. I was so excited and confident. I strongly believed that I was not nervous at all. But, that wasn't the case.
When I got handed the microphone, I instantly went blind. I forgot most of what I was going to say. It was like Warren Buffett, my idol, interviewing me for a job.
The first word out of my mouth was "student", when I actually should have stated my name. Asking a question to a person like Ben Bernanke got me so nervous, I mumbled and rambled during my question. My question basically was, "If you were the president, what would you do about the taxes, corporate taxes, which is too high?"
Full video of the interview can be found here. I can be heard asking the question at 42:30.
I asked it because I strongly believe U.S. corporate taxes are too high, causing inversions. Although I got a reasonable answer, I believe I would have gotten better answer if I asked the question in a different way.
My first encounter with a high-profile person made me so nervous, yet taught me a big lesson. It significantly improved my confidence and ability to ask a question (to a high-profile person) without being so nervous. Who's the next high-profile person I will meet? Janet Yellen?
A short video of Mr. Bernanke leaving the "stage"
A picture of Mr. Bernanke leaving the "stage"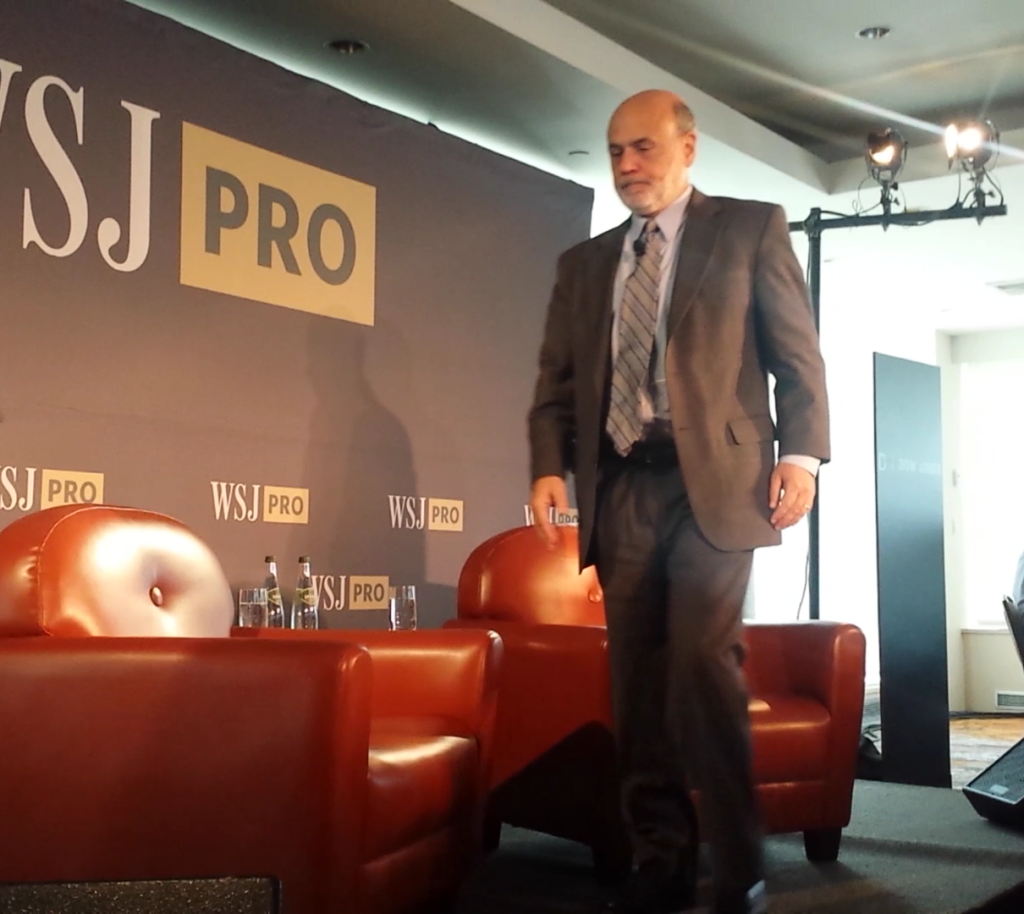 I will forever remember this day, October 7, 2015.
Thank you, Wall Street Journal.
---
UPDATE: At the event when I was asking the question,