Cisco is undervalued (target price will be revealed in part 2)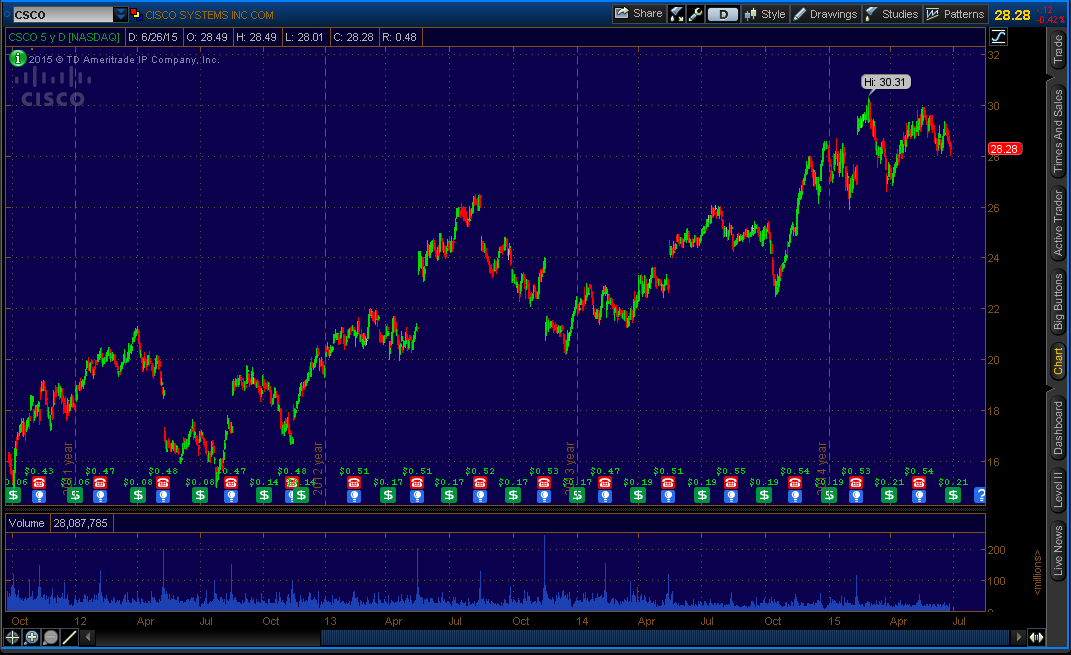 Cisco (NASDAQ: CSCO) – networking giant – designs, manufactures, and sells networking equipments. Founded in 1984, Cisco has grown exponentially over the years. In May, Cisco announced that Chuck Robbins will be the new Chief Executive Officer (CEO) effective July 26, 2015, replacing John Chambers who will assume the role of Executive Chairman and will continue to serve as the Chairman of Cisco's board. John Chambers is confident Chuck Robbins will continue the positive momentum. I, too, am confident because Chuck Robbins has a great history.
In the past, Robbins has been Senior Vice President (SVP) of Worldwide Field Operations, SVP of the Americas, SVP of Worldwide Sales, SVP of US Enterprise, SVP of Commercial Business, Head of North American Channels, Group Vice President (GVP) of US and Canada channels, and has been a Director of Cisco since May 1, 2015.
Chambers stated "Chuck's vision, strategy and execution track record is exactly what Cisco needs as we enter our next chapter, which I am confident will be even more impactful and exciting than our last." Well, I'm also confident that Chuck will do a great job at Cisco, benefiting shareholders.
For someone who has been committed to Cisco for a long time, and held high level roles, I believe he's the right person for the job. He will be ethical and care about the longer-term at Cisco, instead of short-term maximization.
On May 13, 2015, Cisco reported third quarter earnings and it was relatively strong. Revenue was $12.1 billion, increase of 5% year over year. Net income was $2.4 billion or $0.47 per share on Generally Accepted Account Principles (GAAP), up from previous fiscal year third quarter earnings of $2.2 billion or $0.42 per share.

Revenue for the first nine months of fiscal 2015 year was $36.3 billion and net income, on a GAAP basis, was $6.7 billion or $1.29 per share, compared with $34.8 billion revenue and $5.6 billion or $1.06 per share for the first nine months of fiscal 2014 year.
In 5-year average, Cisco's revenue and net income has been growing at more than 5%. For company that is so large, 5-year average growth rate is pretty impressive. Not only revenue and net income are impressive, but also gross margin, operating income, operating cash flow, cash on hand, and dividends.
Part 2 will come soon…UPDATE: Click here for Part 2 or https://www.outofwacc.com/cisco-systems-inc-nasdaq-csco-undervalued-part-2/
---
Note: All information I used here such as revenue, gross margin, etc are found from Cisco's official investor relations site, and Bloomberg terminal. The pictures you see here are my own.
Disclaimer: The posts are not a recommendation to buy or sell any stocks, currencies, etc mentioned. They are solely my personal opinions. Every investor/trader must do his/her own due diligence before making any investment/trading decision.