After meeting the former chairman of the Federal Reserve, Bernanke, last October – I met the current Bank of Japan governor, Haruhiko Kuroda, this October.
I asked Mr. Bernanke a question and did the same for Kuroda. This time, I also got a handshake.
We'll come back to that.
The Brookings Institution, a nonprofit public policy organization, hosted a conversation with the governor on Saturday, October 8. The event was held in Washington D.C., where the think tank is based. The event was nearly 1.5 hours long, starting 4:00 P.M.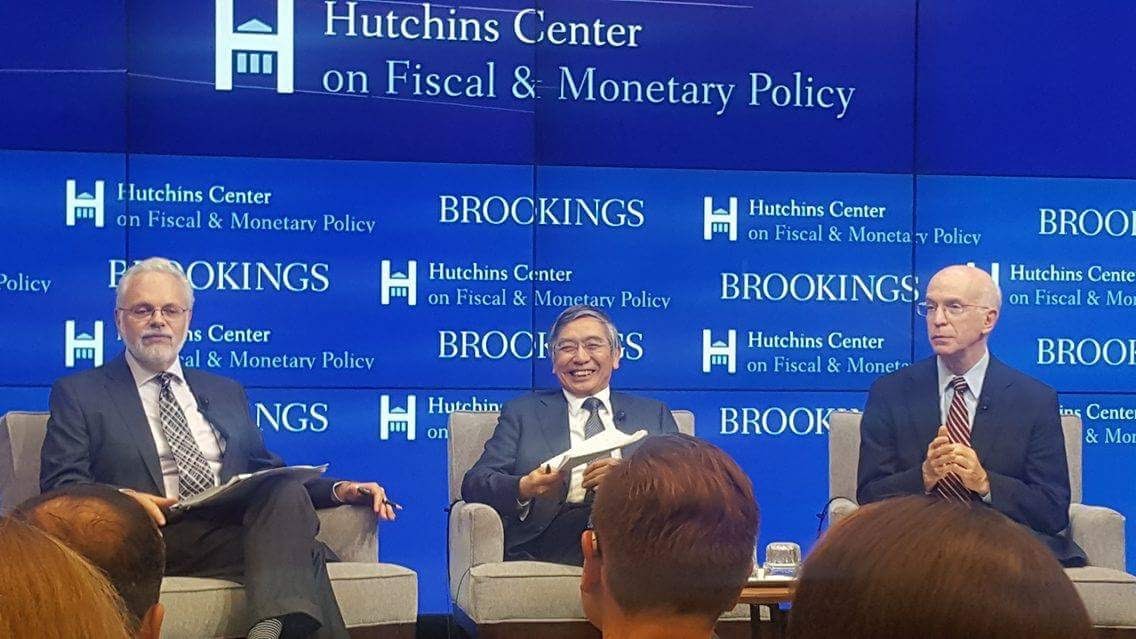 I live in New York City. It took about 10 hours on a bus to go to D.C. and come back, as well as about $70….all for an hour of event. At least I got some work done on the bus. Time well spent.
It was all worth it since I'm in love with economics and finance.
Kenneth Tjonasam, also a student at Baruch College and the smartest person I ever met, went there as well. He asked a question before me.
Back to the question.
This time, I didn't blank out, as I learned from my first experience meeting a high-profile person.
I asked "What do you think is the biggest threat to the financial markets today? Lack of liquidity? Regulations? Algos and HFTs? Or whatever?" (I should have said "Or something else?"). There's video available below. I ask the question at 1:17:55. Kenneth asks his question at 1:17:18.
This is a question I ask nearly everyone in the financial services industry. Some have said illiquidity. Some have said regulations. No one have said algos/HFTs. One person I met on Thursday said "lack of growth." 
I find this question quite fascinating, considering regulations and algos/HFTs (technology) are partly responsible (or you can argue entirely responsible) for the lack of liquidity.  
Did Mr. Kuroda answer my awesome question? No!
After Kuroda answered the first 3 questions, the moderator, David Wessel, took 4 more questions. I was the 6th, which is my favorite number. When it came time to answer my question, David said "We don't have time for more questions." (1:26:05).
I'm sure Kuroda is happy for dodging my question.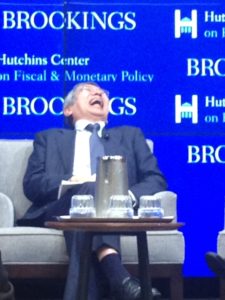 Besides the disappointment of time, the experience was great. I'm thankful to the Brookings Institution for the opportunity to be at the event. It's only matter of time before I'm on stage there and a moderator asks me questions. Who's the next high-profile person I will meet? Janet Yellen?
….and Kuroda is really short, with a perfect smile.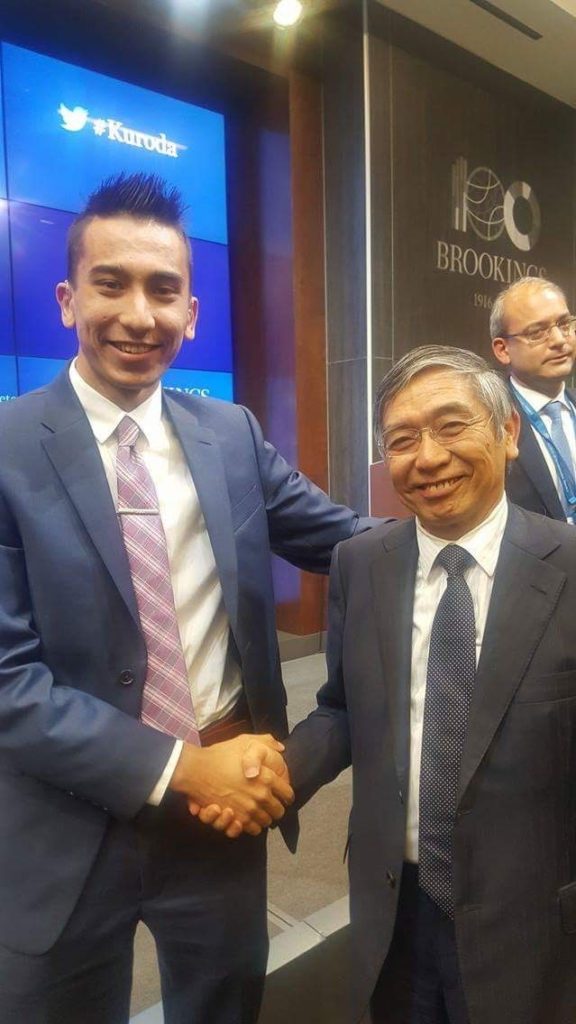 A conversation with Governor Haruhiko Kuroda, Bank of Japan.