WHAT A YEAR! Market sell-off. Complete reverse afterwards. Full of surprises, from Brexit to Trump (not for me since I predicted them).
During the global markets crash in August of 2015, I completely lost all the money I made that year plus some more in forex. Witnessing markets free fall – faster than Luke skydiving 25,000 feet without parachute – for the first time ever crushed my account to death. (For the record, I wasn't trading in 2008 and had absolutely no idea what was unfolding that time).
Thinking euro will go to the parity level by the end of 2015, most of my positions were crowded in shorting EUR (The Big Short). Just when I thought euro would follow the markets, it acted as a safe-haven.
Lessons learned the hard way:
Always keep enough cash for emergency and/or new opportunities (could not make new trades)
Do not keep most things in one place (EUR short)
Do not let the perceptions – media, traders, experts, you name it – fool you ("Euro is not a safe-haven asset")
Taking all these lessons, I completely changed my strategy and will continue to tweak it to adapt to the current conditions. After taking a break from trading in September (2015), I opened a new forex account.
Started off strongly, with high standard deviations, but enough for me to sit through that. High-risk/High-reward. As I continued tweaking my strategy, I reduced the swings in the P/L.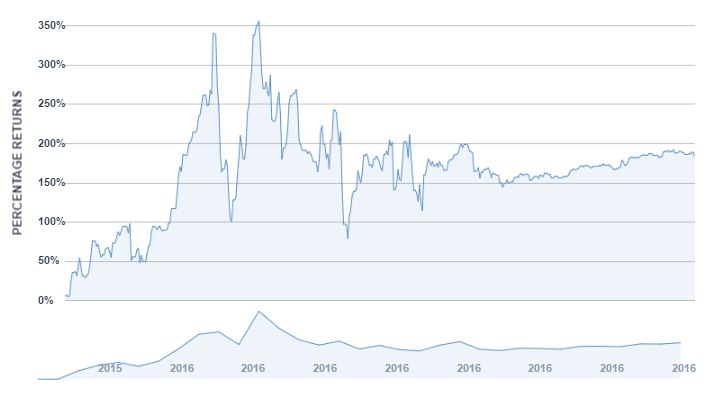 Starting in August 18 of this year (2016), my returns have been very stable, trending upwards (see Figure 1). It went from 144.49% return to 184.42% as of the last trading day in 2016. Last August, I made a significant chance to my strategy which led to stable returns trending upwards. I continue to tweak my strategy little by little until significant change is needed. Repeat.
Since inception (09/29/2015), I have returned 184.42%. In the second half of this year, I deposited more money into the account. In turn, the % returns you see in the pictures above and below, has a huge difference in nominal amounts.

In 2015, I returned 117.48%. This year, I have returned 32.82%. Since the inception, percentage of profitable trades are 50.70%, with the average gain per trade 3.82 larger than the amount of average loss per trade.
Sharpe ratio is 1.13 (not good yet), with average monthly return of 11.01% and 33.79% standard deviation of monthly return. Compounded monthly rate of return is 7.22%.
I predicted Brexit and profited bigly off it. 30.77% of the profit came from pair GBP/USD. Thanks Brexit. How did I predict Brexit?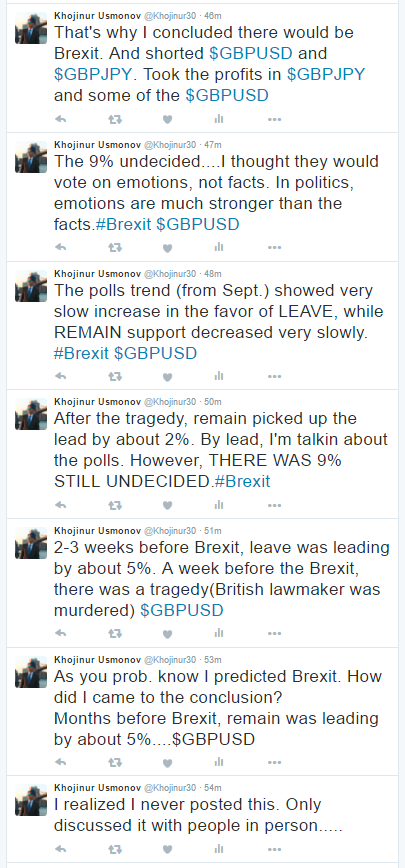 Largest loss was 5.21%, from pair AUD/USD. I don't know what to blame except myself.
As to predicting Trump's win, the profit was a fraction of Brexit profit, via other pairs than Mexican peso currency. The day after the election, the peso suffered its largest one-day drop since the Tequila Crisis of the 1990s. Too bad I did not have access to peso pair at the time. How did I predict Trump win? Tweet 1, 2.
If you invested $1,000 in me at the inception, that money would have been worth $2,844.23 today.
You can still invest in me. Minimum investment is $1,000. Contact me for more details.
Thank you.
Update: "Equity/Commodity Portfolio Performance: Inception & 2016" article is posted.