Previous post about GE: https://www.outofwacc.com/ges-massive-makeover/
UPDATE:
On April 17, 2015, General Electric (NYSE:GE) reported Q1 2015 earnings results. GE reported $34.09 billion and $5.08 billion in segment revenue and profit, respectively, compared to Q1 2014 results of $35.06 billion and $5.21 billion in segment revenue and profit, respectively. In earnings per share (EPS) terms, GE reported EPS of $0.31 per share, which compares against $0.33 per share in the same quarter last year, down 6% year-over-year, but still managed to beat the consensus estimate of $0.30 per share.
Their earnings were impacted by Forex market and significant charges related to GE Capital exit activities. During the Q1 2015 conference call,  Mr. Jeffrey Bornstein, Senior Vice President (SVP) and Chief Financial Officer (CFO) for GE, highlighted a common issue felt by many international companies: "Foreign exchange was approximately $940 million drag on Industrial segment revenue and about $120 million impact on op profit." Almost $1 billion currency market impact only effected 4% of industrial revenue. However, the management stated "Despite this headwind, industrial segment operating profit was up 9%.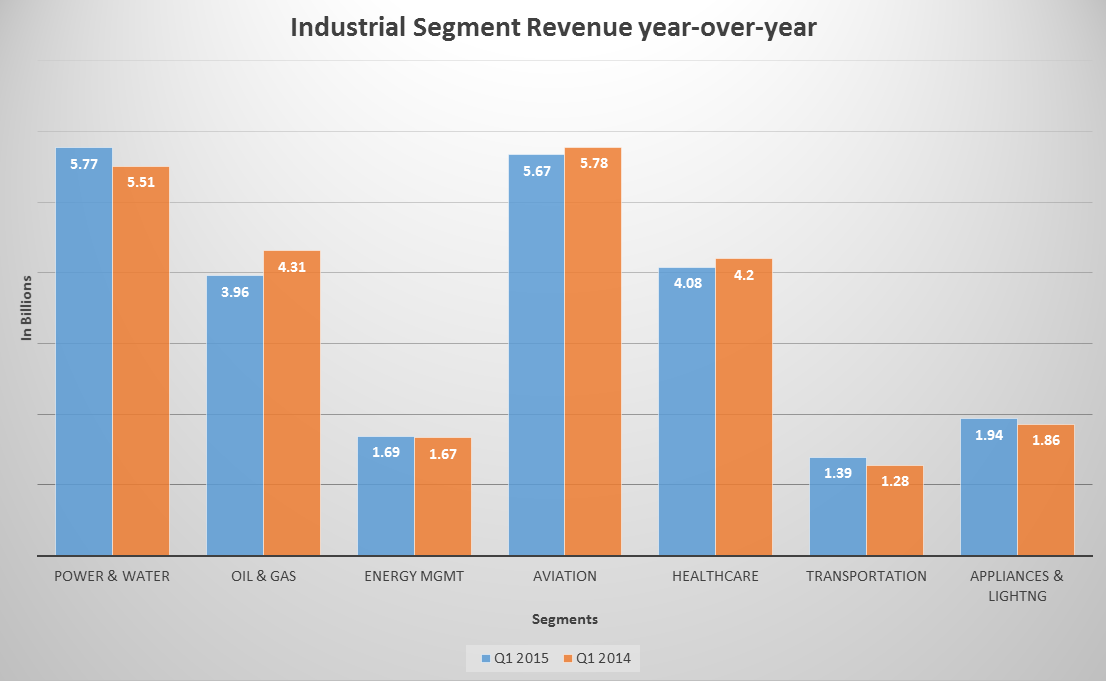 As seen above, the picture shows Industrial Segment revenue year-over-year. There was not much of change. I believe it's going to change since GE is taking a bold move.
Even though GE faced many headwinds, including from foreign exchange and low oil prices, they still managed to grow. Strong dollar and low energy prices are only temporary. It's just a matter of time before the dollar depreciates and oil prices rebound. I have no doubt that GE will continue to succeed.
GE recorded a health margin improvement in the 1st quarter. Industrial segment gross margin increased 90 basis points (bps), or 0.9% to 26.2%, while operating profit margins increased by 120 bps, or 1.2% to 14.6%. The company is cutting costs and simplifying operations to lift margins, which is a positive sign.
Recently, GE announced to reduce the size of its financial arm, GE Capital, significantly. Last quarter, revenue from GE Capital fell 39%. This is because GE have already started reducing the size of GE Capital to become an industrially focused company, which I look it as positive in the longer term. A negative side of GE Capital reduction are taxes. GE will be losing out on significant tax breaks. GE Capital has helped GE lower its effective tax rate in the past. In 2014, GE's effective tax rate was around 10%. Now, it moved up to about 23%. While this is a big difference, it should not be concern for investors, because it is in line with other industrial companies. Financial companies are the most vulnerable to shocks of the global financial markets. Thus, GE is taking the right move to spin off its financial unit. In a long-term, I believe more focused industrial company is positive for GE.
GE is known for its dividends. GE pays shareholders $0.92 annual dividend, or 3.43% yield, which is really impressive.
GE expects double-digit Industrial operating EPS growth to $1.20-$1.20 per share, 2%-5% industrial segment organic revenue growth, and increased margins. The company also expects high-value industrial to comprise more than 90% of GE earnings by 2018.
To conclude, I plan to hold my position (more details on previous post: https://www.outofwacc.com/ges-massive-makeover/). I will be adding more shares through dividend reinvestment, or Dividend Reinvestment Plan (DRIP) program. I also might buy additional shares. I strongly believe GE's restructuring plan will lead to significant capital appreciation and I have no doubt GE will increase its dividend distribution.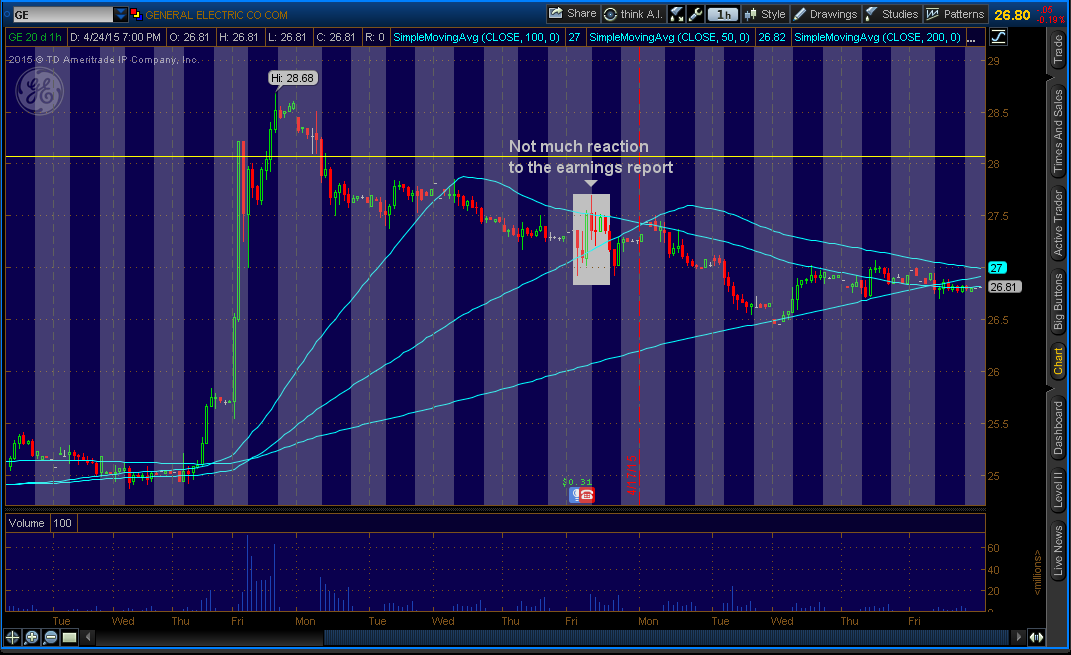 Feel free to comment below. If you need to contact me, click "Contact Me" above and send your message. Thank you.