Last Friday (April 10, 2015), General Electric (GE) announced a plan to sell off real estate and reduce the size of their financial business. They will be selling majority of GE Capital Real Estate assets for about $26.5 billion. GE will also sell away the remaining portion of GE Capital. It aims to complete the sale of GE Capital over the next two years.
GE's financial unit is one of the largest financial entities, with assets of half a trillion dollars. It includes everything from consumer loans to property. When the financial crisis hit, earnings from GE's finance unit collapsed. There were (still is) strict regulations on financial services. As a result, Jeff Immelt, CEO of GE, promised to shrink the finance arm.
Ever since the financial crisis, G.E. has taken small steps to shrink its finance operations. Last year, it spun off its private-label credit card business, known as Synchrony Financial (Ticket: SYF), for $2.9 billion initial public offering (IPO).
To who? GE said it would sell nearly all of its real estate portfolio to investors including Blackstone Group and Wells Fargo & Co for $26.5 billion. There are a further $165 billion of assets that needs to be sold. There will be buyers other than Blackstone Group and Wells Fargo & Co. The company plans to keep the finance assets directly related to selling its products such as jet engines, medical equipment, and electrical grid gear. Remember; Warren Buffett has a stake in both GE and Well Fargo. I believe Warren Buffett will be increasing his stake in GE.
Why now? GE is selling their real estate and financial business for two reasons. First, commercial real estate prices are up. Commercial real estate prices are higher today than it was before the financial crisis. Lastly, rates are still low. If the Fed hikes interest rates (cost of borrowing rises), it will be unattractive to finance any deal. Therefore, it's a perfect time to take an advantage of the low rates and the high prices.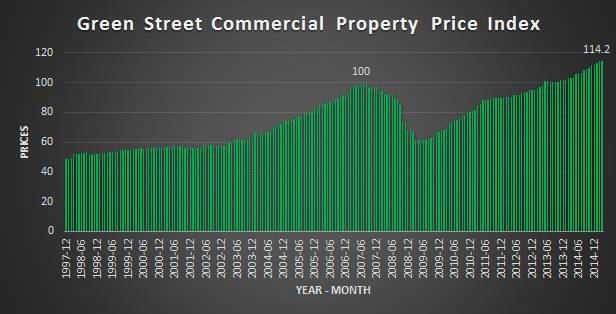 GE is taking the right move, by focusing more on industrial sector. By beginning to sell $26.5 billion worth of real estate assets, GE will be returning to a kind of company it is supposed to be, an industrial company. GE's operations include jet engines, oil drilling equipment and medical devices. I would not be surprised if GE makes industrial acquisitions, both small and big. I would not even be surprised if GE merges with another industrial business.
Investors are very happy with the deal, including me. General Electric's stock (Ticker: GE) rose more than 10%, on a heavy volume, to $28.68, highest since September 2008. On Friday, more than 350 million shares (GE) were traded. GE expects to return more than $90 billion in cash to investors through dividends, share buybacks and the Synchrony exchange through the end of 2018. $50 billion will come from a share repurchase program, one of the biggest on record. As of January 31, GE had 10.06 billion shares outstanding. GE expects to reduce it by 20% to 8-8.5 billion by 2018. In the longer term, the stock price will continue to increase.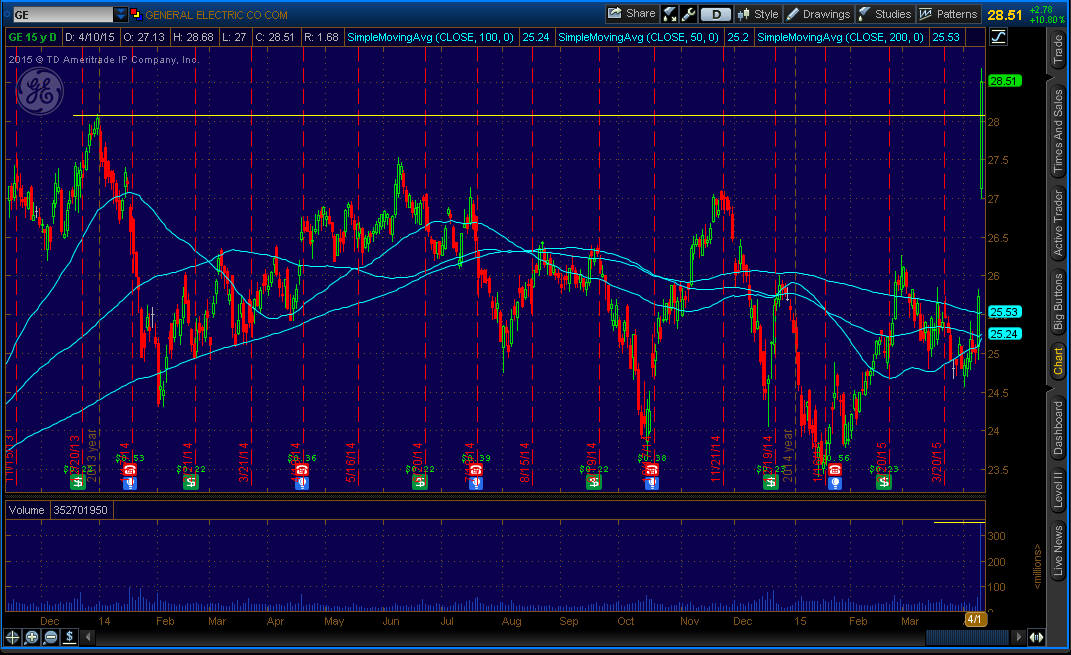 Not only GE wins here, but also Uncle Sam. GE will bring back $36 billion in cash that resides overseas and will have to pay tax to the U.S government, ranging from $4 billion to $6 billion.
GE said it would take after-tax charges of about $16 billion for the restructuring in the first quarter, with $12 billion being non-cash charges. It will reduce their Earnings Per Share (EPS). On Friday (April 17, 2015), GE will report their first quarter earnings.
GE expects that by 2018 more than 90% of its earnings will be generated by its industrial businesses, up from 58% in 2014.
Past & Future: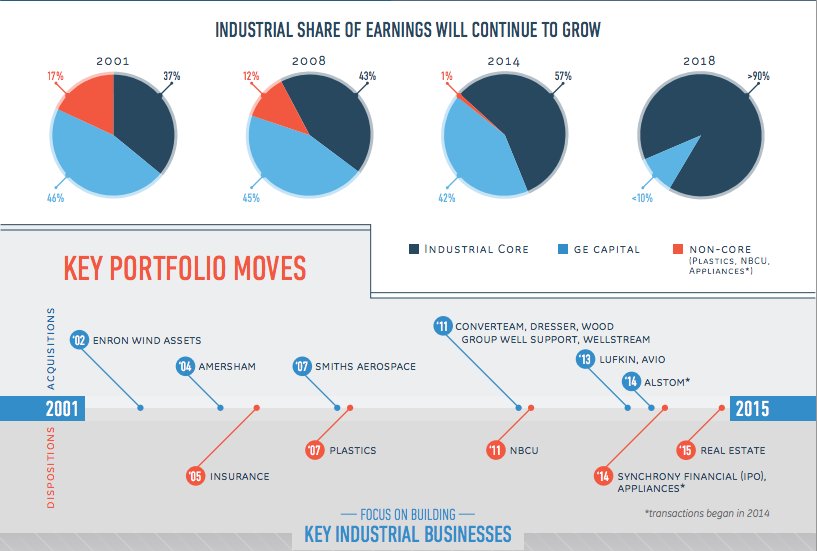 Note: I currently own shares in GE, which I brought last year at $25.83. I plan to hold on to it. I may even buy more shares. I believe GE's share-price will reach $38 by the first half of 2016.
If you have any questions, feel free to contact me, and/or leave comments. Thank you.
UPDATE: Click https://www.outofwacc.com/ges-slight-positive-earnings-report-and-its-about-to-change/ or click here.